Artists in the El Paso community get trashy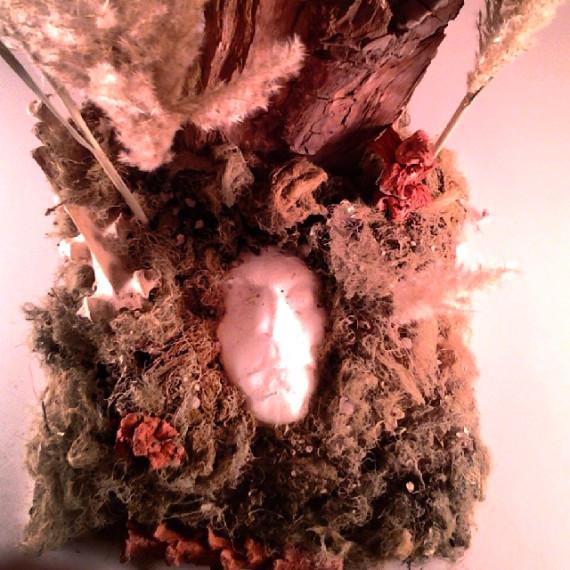 Lesly Limon, Staff Reporter
April 22, 2014
One person's trash is another person's treasure and artists in the El Paso community are giving that phrase a whole new meaning.
Ceramic artists, projection artists and even fashion designers throughout El Paso are showcasing trashy work, and that's meant in a good way.
Aaron Quinn Martinez is a teaching assistant at UTEP, who works mainly with sculpture art.
"I'm a ceramic artist. My art is not normal art work, I try to be as fresh as I can by using found materials," Martinez said. "I take trash and turn it into a form of interest."
Martinez goes by the name One Star Artist on Facebook. Although Martinez primarily uses ceramics in his art, some of the found objects he also uses are clay, wood, moss, seed pods, beans and even crushed up snail shells.
Martinez handles these items and turns them into art.
Adriana Oñate, a senior art major at UTEP, has her work on display at the Rubin Center for the Visual Arts in the "10 Squared 100 Artists Celebration UTEP's Centennial" art show. Oñate works on different mediums and she produces a variety of artworks. Recently she's been working primarily as a projection artist.
"Being a projection artist is a bit earth-friendly because I don't use paper or have much waste," Oñate said.
She said she also experiments with film in her artwork—it's performance art that she films, then she exhibits it in ways that get her artistic message across.
Ana Dieguez is a local fashion designer who loves to experiment with trash in her clothing.
"It started as a project for school. We had to make a garment for Earth Day. After that, I found that I actually enjoy it. Plus, it's different and makes people think twice about the environment and how bad it's getting," Dieguez said. "Seeing clothes made of trash just brings a smile and a 'wow' on people's faces. It makes me happy and proud that I can make wearable clothes out of recycled trash."
Dieguez has had her work displayed in a few art and fashion shows around the city.
Although she isn't currently working on a big project, she does take custom orders and requests for clothing.
"Sometimes it just comes to me. I try to use something that hasn't been done before, so then I look at what to use and I ask all of my friends' families to save them [trash] for me," Dieguez said. "At first, people think it's weird that I collect trash, but when they 'aww' at the end results, they change their minds and like it."
Esteban Marquez is a senior graphic design major at UTEP. Marquez also focuses in making sculptures. His work has been featured in past art shows at the Rubin Center, and his work is currently on display at the student art show. His most recent piece is a sculpture made of found objects and human hair.
"I think there's already a lot of material out there that's ready to be utilized, instead of creating new material," Marquez said. "So with the boots I wanted to play on the contrast of having an aggressive element (the boots) with something more delicate (like hair). I think the piece also has a lot of room for people to make their own interpretation."
These artists have discovered that utilizing found materials is an excellent way to be aware of the environment and utilizing resources instead of adding waste to the environment. For more student art visit the Rubin Center.
Lesly Limon may be reached at [email protected]