Earth Week April 21-25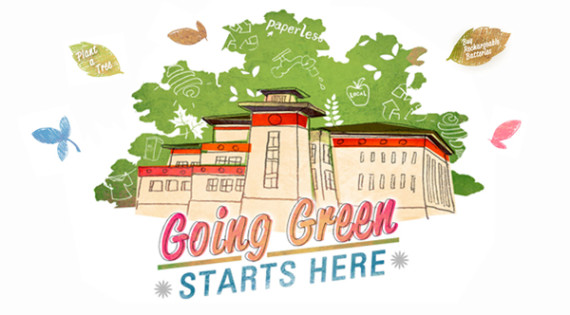 Weeklong Events
Clothing Drive at SGA: All day
The clothing drive donations/ proceeds will be used to go toward The Mustard Seed Café, a restaurant/ soup kitchen that focuses on feeding the less fortunate and a pay as you can policy.
Electronic Recycling Program: All day
SGA will be receiving old electronic gadgets from students to be disposed of properly.
Take a Vow: All Day at Union
A board at the Union will be placed where students can express how they would like to take a step toward being more environmental friendly.
Green Petition: All day
Members of the Green Fund will go to classes and explain how the UTEP campus is going green and begin a petition to continue the efforts in making our campus an environmental friendly campus.
Paint the Campus Green: All day
Art students will paint the Sun Bowl trashcans the colors of the official recycling bins while expressing their own creativity.
Re-Create Re-Think Re-Discover (R3)
The Union Gallery, Union Building East, Second Floor
Library Showcase: 7 a.m. – 1 a.m.
Library will have displays throughout the week that are themed towards the environment.
Out to lunch: 11:30 a.m. –  2:30 p.m.
Chipotle, Rulis and The Pizza Joint will be hosting special sales and discounts for staff and students who show their support by wearing the Earth Week t-shirts or showing their UTEP ID.
Monday, April 21 – Life Day
Yoga at the Sun Bowl Stadium-Noon
Join the Wellness Program and Casa de Yoga as they host yoga at the Sun Bowl Stadium. Take advantage of a FREE yoga class with yoga instructor, Jesse Caraballo.
Tuesday, April 22 – Water Day
Centennial Carnival at the Union – Noon – 2:30 p.m.
Join PRA and other student organizations as we celebrate the planet Earth.
Wednesday, April 23 – Air Day
Earth Week Fashion Show – Noon
Union Programs' High Noon Music Series will be hosting an Earth Week Fashion Show at the Union Plaza that will showcase local talent in creating great pieces out of alternative materials.
Union Gallery Exhibition Reception – 1:30 p.m. – 3 p.m.
Join the talented artists in a reception to admire their works, which encompass both art and sustainability. Refreshments will be served. Free admission.
Thursday, April 23 –  Earth Day
Symposium with the Chef – Noon
Join Sodexo for "Lunch with the Chef" and learn about local food options. Eat Healthy. Shop Local.
Earth Day Celebration – 10 a.m. – 2 p.m.

Go to the Union Breezeway for a day of celebration and relaxation with live music: Cesar (The da) and Bumpstreet Fonanza.
Friday, April 24 – Fire Day
VELOPASO Bike Awareness/Bike Ride– 5:30 p.m.  – 7:30 p.m.
VELPASO will be hosting a bike awareness course available to all of the community at the Andesite Room 102 B, Union East.
6:30 p.m. – Bike Ride
Critical Mass meeting- 7:30 p.m.
Union Programs' Get Reel Film Series  – "Blackfish" –  7 p.m.
At the Union Cinema, Union East. Prices: $1 UTEP students, faculty staff and alumni (with valid ID); $2 general admission.
Centennial Museum's Florafest Lecture – 7 p.m.
Guest Speaker: Christy Ten Eyck, "Transformations, UTEP" at the UGLC.