The Sun City gets Happy!
Devin Cuevas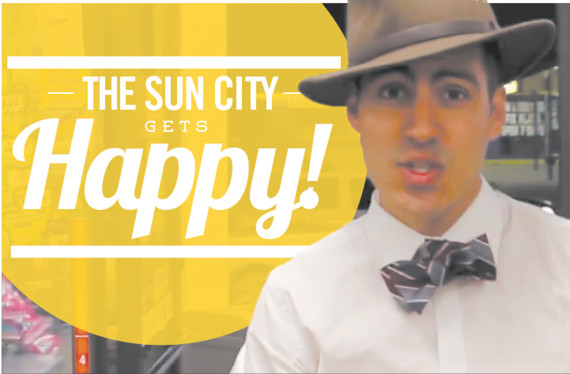 Lesly Limon, Staff Reporter
April 8, 2014
Pharrell Williams' hit single "Happy" has topped the Billboard Hot 100 for six weeks. But what exactly does Pharrell and the Sun City have in common in terms of being "happy?"
You may have seen a video floating around the Internet recently of El Pasoans reenacting the "Happy" music video. The video features various local celebrities, landmarks and familiar places that make El Paso unique.
The video, which was posted on March 24, has already reached over 76,000 views in a few weeks, making the video the talk of the town.
El Paso is also known as the safest city of its size in the U.S., according to CQ Press. Meanwhile, Foursquare, a location-based social networking website for mobile devices, rated El Paso as the second-rudest city in the world. Although the video is receiving plenty of positive feedback, there have also been some negative comments about the video as well–most having to do with these city rankings.
YouTube user "Charlie Shake" left a comment on the video saying, "Good idea on the video. Some of the dancers are good, the guy of the green shoes. The part of the church is cool. Sadly, El Paso is not a city that makes anyone happy."
YouTube user "Mark Roddy" also commented, "That was dumb there trying to make it seem like El Paso is a fun place when it's really not everyone in El Paso is a liar and rude you can tell some of the people weren't into the video."
Aside from Internet haters with poor grammar, there were also plenty of positive comments in response to the "Happy (El Paso)" video. YouTube user "Juan Corona" commented, "Living in El Paso makes me happy. I have seen my city grow through the years. It's a better place now then when I was a kid. I can only imagine it will be even better when my 9-month daughter starts attending UTEP."
Whether you love the "Happy (El Paso)" video or hate it, it seems to be the talk of the town. The mastermind behind this video is Devin Cuevas, junior computer information systems major at UTEP. Cuevas was eager to make his own version of the Pharrell video.
"The existing music video was growing in popularity and a friend of mine gave me the idea that I should localize it and bring El Paso into it. Knowing that we have a great community, I felt that this video would be an excellent way to shine some positive light on El Paso." said Cuevas. "I was born and raised in El Paso, Texas, so when I first viewed Pharrell Williams' official 'Happy' video it was very easy to find the right locations that matched Pharrell's video."
Cuevas said it was a challenge trying to fit all of the historical places in El Paso, and based on comments, he regrets not including the star on the mountain.
"What makes me proud of the video I directed and produced is that I kept 'Happy (El Paso)' true to the video in that it was a near shot-for-shot remake of the real video," Cuevas said.
If you're unfamiliar with the music video for "Happy," it features Pharrell dancing and singing throughout a city, where people are happy and having fun. This is exactly what Cuevas did with his El Paso version of the video. If you compare both of these videos, they are extremely similar from take to take and it is edited quite well. The fact that this video went viral so fast seems to be a shock to those involved in the filming.
Lily Lopez, 104.3 HitFM on-air personality and a UTEP alumni, is featured in the "Happy (El Paso)" video. She said she liked that it showcased all of the city and its culture and portrayed El Paso in a positive way.
"When I was asked to do the video, I didn't really think it was going to get as big as it has! I had a great experience with doing it because I love that song and the message behind (it)," Lopez said. "I also think it's received so much positive feedback because it featured different people from the city. Everyone likes to see a familiar face when something goes viral, and that excited people, so they shared it to show off not only a familiar face, but their city as well."
The video has received plenty of attention from various media outlets throughout the city. However, it is clear that UTEP was definitely a big inspiration for the video as well. The video features several university locations, current students, university alumni and local celebrities.
Gabriel Acuña, UTEP alumni with a degree in media advertising, makes an appearance in the video. Acuña is the founder of OSAPLE, a cultural collective that seeks to promote and push El Paso as a great city.
"I thought it was great to be part of something that was fun, but most importantly, such a positive thing for El Paso. The only thing greater is how much attention it got in such a short range of time," Acuña said. "The creativity behind the video definitely played a huge role, but in my opinion, it has a lot to do with how much people love our city and the pride they have for it as well."
Cuevas said that he is planning another video, which will feature more than 200 native El Pasoans "strutting their stuff." The video will include scenes from El Paso and Cd. Juárez, Mexico. Cuevas also expressed his gratitude to the Sun City for their support.
"I want to thank everyone who was in the video or helped in any way make it a success," Cuevas said. "It was a fun experience filming 'Happy' and I hope we can continue to share it with others and help El Paso shine."
Devin is currently working on a new music video, featuring "#SELFIE" by The Chainsmokers. Interested people are welcomed to send their own fun self-portrait via email to [email protected], in order to appear on Cueva's music video remake.
Lesly Limon may be reached at [email protected]