Yoga keeps your mind fit and away from stress
Yoga and meditation don't necessarily come to mind when thinking about fitness and exercise.
This physical exercise is an ancient Hindu spiritual practice that entails asceticism. It involves control and discipline of breathing and bodily postures, which stretch the body and build endurance. A major part of yoga is meditation, which ties in with the exercise as specific postures are held for long periods of time, where the individual must concentrate not on the physical experience, but mostly on the mental one.
"There are no necessary skills to do yoga or meditation. It is just a matter of opening yourself to the practice and discovering the benefits," said Maria Contreras, yoga instructor at UTEP. "(Yoga) is a combination of mental, physical and spiritual discipline to promote control of the body and mind."
Many studies have shown that practicing yoga and mediation can lead to health improvement and stress reduction. A recent study, conducted by Harvard students and led by John Denninger, director of research at the Benson-Henry Institute for Mind-Body Medicine at Massachusetts General Hospital, shows that mind-body techniques can switch on and off some genes that are linked to stress and immune function.
The research found that while practicing yoga and meditation, the effects not only occur throughout the body, but also in the brain. They also found that it also relieves hypertension, infertility, depression and the aging process. According to the study, these issues account for 60-90 percent of doctor visits.
"Both yoga and meditation are great ways to increase your overall fitness and well-being by destressing the body both physically and mentally. Yoga on the physical level improves flexibility, balance, body strength and teaches yoga breathing (pranayama) exercises," Contreras said. "Meditation helps with improving your ability to concentrate, mental calmness, relaxation and body awareness."
Rasmiyeh Asam, a UTEP student working on her master's degree in education, taught yoga at UTEP, Surya Yoga Studios, Rush Fitness and subs at Casa de Yoga.  She is RYT 200-hour certified, meaning she has completed more than 200 hours of registered training with the Yoga Alliance.
"Some poses have health benefits such as relieving mild depression, headaches, back pain, improving digestion, help with sciatica, improving balance and improving circulation," Asam said. "Mediation has also helped some people reduce stress, anxiety, as well as help the mind become more calm and obtain a better focus."
Both Asam and Contreras encourage everyone to try yoga for themselves to experience first-hand what it can do for you and your body.
Jose Soto may be reached at [email protected]
About the Writer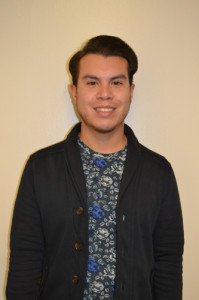 Jose Soto, Staff Reporter
Jose Soto is a multimedia journalism major with a minor in creative writing. He joined The Prospector team in November of 2013 as an entertainment reporter....