Trainer helps students reach fitness goals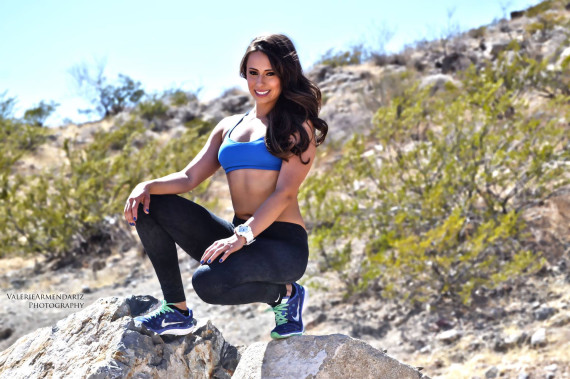 Fitness may seem to be an individual venture—one that is often undertaken and accomplished by students.
For Kimberly Rayner, senior marketing major and personal trainer  at New You Gym, it is a completely different experience. Rayner sees exercise and fitness as a social goal, where she is the leader of the pack. She undertakes the task of helping other students reach their fitness goals in stride.
Q. How was it that you came to be a personal trainer? 
A. I used to be a client at New You and within the first month of training, the owner, Shane Martinez, (now my role model), came up to me one day and asked me if I wanted to be a trainer. I was so happy and felt extremely blessed because I am in love with fitness and love helping people with their confidence and health.  I shadowed Shane for two months and got my certification as soon as possible.
Q. What does being a trainer entail? What specific regimens or protocols must you abide by?
A. First off, you need to be certified and knowledgeable about both fitness and nutrition. I am certified by the Interactive Fitness Trainers of America, as well as CPA certified. My day starts off every day at 4 a.m. Monday through Friday. My first clients are at 5 a.m. and I work six to 10 hours daily, including Saturdays.
Q. What are your trainees like? Do you strictly train student-athletes or do you also train average students as well? 
A. I train all ages and all types of women. It ranges from student-athletes to people just trying to stay in shape. I do train some men, but my specialty would be women because I can easily relate. The youngest I trained was 12 and the oldest was 84.
I have a large variety of clients and every one of them is different and looking to reach different goals. I have to make sure that I cater to all my clients individually and keep track of their progress, like diets, measurements, etc. I always make myself available to each and everyone of them. I make sure they store my phone number—that way they can text me whenever about questions they might have that is health and fitness related.
Q. What kind of training do you have your trainees undergo? How do you determine what level of training a person can handle? Do you have a set workout depending on the physical endurance of a trainee?
A. I am a person who gets bored very easily. I am the same with workouts. Since I have always been that way, I make sure that I always keep up to date with the latest workouts and trends. I want my clients to walk into the gym and have no idea what we are going to do. I take time every Sunday and spend research and lots of thought in planning and writing my workouts for the week.
All my clients do the same workouts, but depending on the physical endurance of the trainee, I either lower or higher the weight, add more reps or lower the reps. I go at the trainee's pace and I try not to do anything too crazy that will push away the clients.
My training is a mix of everything—you could call it cross training. It ranges from cardio, weight training, plyometrics, some cross-fit movements and others.
Q. As a UTEP student, how important do you think physical training is? Not only for active people like yourself, but for all students?
A. When I first started to work out, I enjoyed it and it was the way I spent my leisure time. Later, I started to get really interested, as I realized how much I was benefiting from it. It is a good way to stay in shape, prevent future disease or other health problems and it has proven to help people build their confidence.
Eating right and working out works hand in hand. You cannot work out super hard and go eat a bucket of ice cream and pizza and expect to see results. I believe your health is the most important thing; you only have one body, treasure it and treat it the way it's supposed to be treated.
Students at UTEP have the advantage of having an amazing gym that has state-of-the-art equipment, fitness classes and an amazing pool.
Students always complain that the reason they cannot stay in shape is because of limited time, but they can make time. Three to four hours a week dedicated to working out and a good diet is very important for their future.
Q. Besides physical training, do you also provide health training and healthy eating suggestions?
A. I personally believe that good-eating habits should be everyone's primary concern. About 70 percent of your results come from your diet. I emphasize nutrition with my clients and although I am not a certified nutritionist, I make suggestions.
Q. What would you encourage the average student to do to help them start getting into shape? Are there any eating habits that all students should stick to? 
A. I think that the way to encourage students to get into shape is providing them a list with all the benefits they are receiving from maintaining a healthy lifestyle. Many students do not think about their health in the future and focus on the present. They need to be aware that (their) choices today will affect their futures in the long run. I would also suggest they rule out fast food. If it's fast and you can get it through a drive through, odds are that it's probably not the healthiest choice for you.
Q. What has been your experience so far being a female trainer with many male trainers also in the field?
A. I have had an amazing experience as a female trainer. I have very supportive co-workers, who the majority are male and they are very encouraging. I am very blessed to work in such a positive environment. It also helps, because I can relate to my female clients.
Q. What are your physical goals and dreams as a UTEP student?
A. My physical goals are to be healthy. I have never been one who was skinny and losing weight has always been an issue for me because I have such a slow metabolism.
At first, I used to struggle with my confidence, because I was never that size 0 I always wanted to be. With time, I accepted myself and realized that I needed to be happy with me. I have a healthy diet and work out consistently. Once I accepted my body for what it was, I became happy with myself and wanted to help women who were struggling with that issue as well.
As far as my goals as a UTEP student, I am about to graduate with my marketing degree, but I am thinking about double majoring in kinesiology. I want to apply to the physical therapy program at UTEP and eventually pursue that. I would love to continue the path of training and also helping people in that sense.
Q. What keeps you motivated to continue training? How do you balance a student lifestyle and a healthy and fit lifestyle?
A. The main motivation behind continuing to be a personal trainer is the smiles on my clients' faces. Their happiness means the world to me.
All the lives that I have impacted and influenced is the reason why I am absolutely in love with my job.
Being a student and working full time has been hard at times, but I stay motivated and I make sure I have good time management. I would not trade my life for anything, I feel completely blessed and I thank God every day for these amazing opportunities he has given me. I would not have it any other way.
Jose Soto may be reached at [email protected]
About the Writer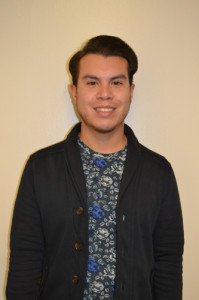 Jose Soto, Staff Reporter
Jose Soto is a multimedia journalism major with a minor in creative writing. He joined The Prospector team in November of 2013 as an entertainment reporter....