Eating healthy, the truth behind nutritious foods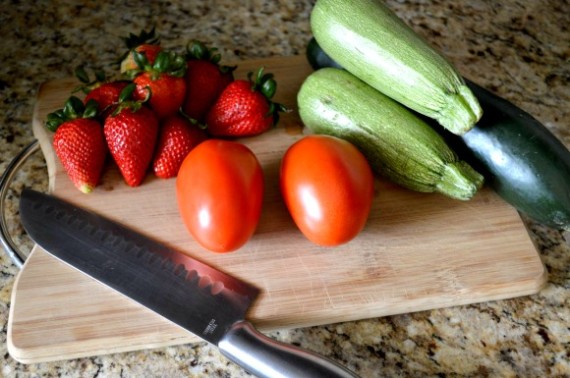 For those trying to maintain a healthy diet, they might be spending their money on foods such as salads, wheat bread and anything that says "fat free." However, they might not know that these foods could not be that nutritional.
An article on cookinglight.com lists 10 foods that they deem unhealthy. On the list are wheat bread, prepared salads, reduced-fat peanut butter, energy bars, bran muffins, smoothies, packaged turkey, fat-free foods, baked potatoes and sports drinks.
While some of these items, such as salads, may come as a surprise, Maria Duarte-Gardea, chair of the Department of Public Health Sciences, said that prepared salads can, in some ways, be unhealthy for you, especially if you are trying to stay on a diet. However, she also offered some tips when ordering one.
"In addition to containing a large variety of ingredients such as pasta, olives, vegetables, meats, among other ingredients, prepared salads can contain large amounts of dressing, making this food choice a high-calorie meal," Gardea said. "When ordering salads at a restaurant, a better choice will be to order the dressing on the side. This way people save some calories while enjoying the particular flavors emerging from the combination of a variety of ingredients in a salad."
Even if students still want to prepare their own salads, that alone may not keep them healthy, as this particular food may be very misleading.
"Your body needs more than just salad every day. It needs protein and other nutrients that vegetables alone can't provide," said junior nursing major Claudia Villalobos. "I would recommend that eating everything in proportion is the perfect definition of healthy, and changing up what you eat."
Proportions can separate a product from being healthy to fattening. Depending on the amount of that particular item consumed, the calorie intake will be different. Gardea says that large-sized smoothies are not healthy due to the added ingredients that can be in the mixture. Taking in smaller portions is the best option to save some calories.
"Smoothies are usually made of a variety of fruits, milk and nuts as well as other ingredients that may include syrups and peanut butter that add some simple sugars and fat," Gardea said. "A useful guide to avoid overconsumption of calories from packed smoothies is by reading the food labels and choosing those with the least number of ingredients and those containing at least five grams of protein and similar amounts of fiber."
Another misleading label, fat-free, does not mean calorie-free. People are usually persuaded toward placing fat-free dairy products like yogurt in their grocery baskets.
"Fat-free means that fat has been substituted with some type of carbohydrate or protein," Gardea said. "A fat-free food will contain fewer calories than the equivalent higher-fat food, but that doesn't mean that its calorie free."
If students are trying to consume healthy foods, they shouldn't be completely discouraged by the list. There are still several ways they can maintain their diet.
Before purchasing a food that you believe to be healthy, Gardea said to first read the food labels. She recommends choosing foods that have been prepared with less ingredients and those with less calories, sodium, total fat and sugars. Also, look for whole foods instead of processed ones and consider water the next time you want a sports drink.
"A healthy diet includes a variety of foods eaten in moderation and prepared using healthy cooking methods such as baking, grilling, steaming and using small amounts of fat. Foods to be included in a healthy diet include whole foods rather than processed foods," Gardea said. "Following the 'My Plate' as a guide for a variety of foods and portions, and combined with the consumption of two liters of water throughout the day, will constitute a healthy diet."
For more information about healthy food choices, visit choosemyplate.gov.
Amber Gomez may be reached at [email protected].