Rubin Center to host annual juried student art exhibition
Art is a prevalent theme around the UTEP campus, especially at the Stanlee and Gerald Rubin Center for the Visual Arts. Not too long ago, the Rubin Center held a faculty art exhibit.
This time, it's the student body's turn to showcase their talent and hard work. "The Juried Student Art Exhibition 2014" will be hosted at the Rubin from March 27 until May 15, giving students the opportunity to display their passion for art.
"The intent of the exhibit is to promote the unique talent that is found in our departmental student body," said Melissa Barba, assistant director of the Rubin Center.
As was with the faculty art exhibit, the student art exhibit will feature an array of art mediums that focus on displaying the work done by students to their peers, friends and family.
"This is a chance for students' friends and family to see what they have been working toward with their degree," said Daniel Szwaczkowski, preparator for the Rubin Center.
The exhibit, which is held every spring semester, will house works of art and designs created by undergraduate students from the university during the 2013-2014 academic year. Art media, such as painting, drawing, ceramics, metals, graphic design, photography and video will be on display at the exhibition.
"What is different this year is that we are opening up a category for interdisciplinary work.  This would be artwork created by students who are not studio art majors or minors.  In previous years, we only accepted artwork from undergraduate majors or minors from the UTEP department of art," Szwaczkowski said. "We typically will receive about 400 submissions, which gets narrowed down by the jurors. In my years here, we've typically had anywhere from 50-150 of those submissions get accepted into the exhibition. The money collected from the submissions helps to support the cost of bringing the jurors in."
This year's jurors are C.C. Bursell, who will be the graphic design juror, and Abril Castro, who will be the fine arts juror.  Bursell, who is the design director of Brand & Events, Off-Air and the Nickelodeon Group, graduated from Tyler School of Art at Temple University with a bachelor of fine arts degree. She is also the owner of DesignerViking. Burcell is originally from Sweden and resides in Harlem, NY.
Castro lives and works from Mexico City, Tijuana and Juarez. She is one of the founders of La Linea, an independent, interdisciplinary project that combines visual arts and literature. She served as assistant director of exhibitions at the Museum of Modern Art in Mexico City from 2009-2013.  She has a degree in Hispanic language and literature from Universidad Autó noma de Baja California.
The two jurors will be in charge of designating the best pieces with monetary awards, such as the Arlene Smith McKinnon Endowment Purchase Award for Overall Best of Show, which is $750, and the Sarah and Tom Lea Purchase Award for Best Life Drawing of Life, which is also $750. Other awards of $150 will also be handed out such as Best Drawing and Best Piece of Jewelry/Small-scale Metal.
The event will also tie into UTEP's centennial theme by featuring a special piece called "10 Squared: 100 Artists Celebrate UTEP's Centennial."
"We have invited 100 artists with special relationships to the Rubin Center's past exhibitions and educational programming to submit artwork on a 10-centimeter-by-10-centimeter square," Barba said. "This exhibition will include artists from the UTEP department of art, national and international artists and local artists. We will also showcase 100 images of both the history of the Rubin Center as well as the history of the UTEP department of art."
All artwork from this exhibition will be auctioned at the close of the exhibition and all proceeds will go towards educational programming for the Rubin Center.
The student exhibition will have a soft-opening reception on March 27, hosted by the center and the Maximo Art Society. A more formal reception and awards ceremony, in conjunction with the UTEP Centennial Open House event, will be on April 10 from 4 to 9 p.m.
For more information, visit rubincenter.utep.edu or contact Barba at 915-747-7837.
Jose Soto may be reached at [email protected]
About the Writer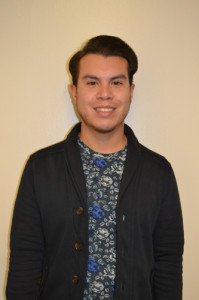 Jose Soto, Staff Reporter
Jose Soto is a multimedia journalism major with a minor in creative writing. He joined The Prospector team in November of 2013 as an entertainment reporter....