Tim Wise discusses white privilege with attendees
Tim Wise, a leading anti-racist activist and essayist of our time, held a brief but profound lecture at the Union Cinema Tuesday evening. With more than 150 attendees, he discussed the backlash of racism in modern days and the substantial effect it has on society. . Wise, who has given impressive lectures throughout the nation, brought a notion of honesty regarding topics like white supremacy, white privilege and the lack of progress regarding racism in the last 50 years.
Wise spent the last 20 years speaking to audiences throughout college campuses, high schools and professional conferences about deconstructing the institution of racism in our nation.  He began his movement when he joined the Louisiana Coalition Against Racism and Nazism in the early 1990's. His main goal was to regress David Duke, who was a white supremacist and member of the KKK, out of political office.  Afterwards, Wise became an organizer for the New Orleans' Public Housing Department, where he points out he saw less drugs than in his white homogenous dormitory back in college, despite general public belief.  He was an adjunct professor at Smith College School of Social Work and an advisor for the Fisk University Race Relations Institution.
Wise used personal accounts and statistical information to help dismantle the fallacies about certain human demographics that are spoon-fed to society.  Wise not only focused on the obvious racism faced by the black community, but also opened the spectrum to include Hispanics and the LGBT community.  He considers the biggest fallacy of this nation to be that white privilege is simply granted by being born white.  He gave different statistics such as how 85 white individuals have the same net worth as 45 million black individuals combined.  For Wise, it is ludicrous to believe that 85 white people are more hard working, have been provided with more hours in the day and have earned more than 45 million black people combined. Wise created the platform for statistical and personal examples of how our nation is suffering from a blindfolded reality where we accept that America's preference is to be a white individual.
As a society, Wise said that we view white individuals to be more prestigious than others and never take the time to question this implication.
I was elated to hear such opinions coming from a white individual.  It's about time that someone with all elements going in his favor acknowledges that.  Being white in this country puts you ahead of others.
At one point during the lecture, Wise recalls an incident where he was locked out of his girlfriend's 1988 Toyota Tercel in Louisiana.  He recounts how it was easy to unlock vehicles at the time with coat hangers.  Using a hanger to open the car, a police car strolled by at that moment, stopped and asked Wise what he was doing.  After explaining this predicament, the police officer then offered Wise his help for breaking into the car.  Had the roles been different in terms of race, the police offer surely would have thought the black person to be a car thief.  Has anything changed since 1988? Not much.
A brilliant and effective speaker, Tim Wise eloquently shifted through different racial topics and discussions to ultimately end on one note: recalling the origins of our nation.  Wise describes the Mayflower as being a boat full of "losers," if you will.  There is absolutely, according to Wise, no way that the prestige and royals of England would have boarded the Mayflower.  This country was founded on the idea of obtaining more.  More of what?
Casting a negative light on Mexican immigrants is hypocritical.  The original colonists emanated genocide, violent land extortion and endowed submissiveness to other races.  Wise said that the idioms of founding this country on justice and freedom are extremely false. It is founded by greed and envy.
Whether you agree or not, Wise's lecture leaves the listening mind excursively thinking; are we blinded to the truth by our own society? Is the idea of racism constructed merely by those who have the power (and money) to construct such things? And where does that leave us?
As a male, I have a led way over women.  As a Mexican male, I don't have a lead on white males.  As a poor Mexican male in college, I have less of a lead over white males who have been provided with more money to help them graduate college—since their parents were privileged enough to have a college education and obtain better paying jobs than Mexican parents who attended college and didn't get that better paying job simply because their last name wasn't Smith or Jones.
Wise effectively pointed out these social structures that continue to suppress certain races and backgrounds.  For those who attended, I hope you left the lecture with at least this: don't allow society to blind you from reality.  Until we attend a lecture from a black speaker as prominent as Wise, until we attend a lecture form a black woman speaker as prominent as Wise, until we attend a lecture from a prominent black lesbian woman speaker as prominent as Wise, then the battle against racism is not at all over.
Jose Soto may be reached at [email protected]
About the Writer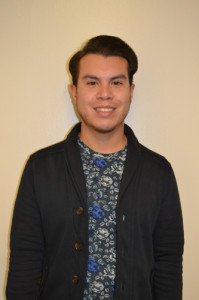 Jose Soto, Staff Reporter
Jose Soto is a multimedia journalism major with a minor in creative writing. He joined The Prospector team in November of 2013 as an entertainment reporter....