Around 400 attend Tribune symposium discussing demographic change in Texas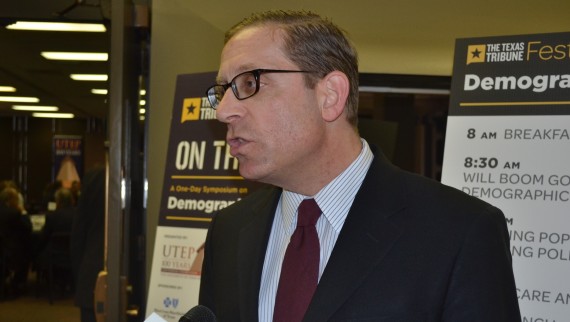 Maria Esquinca and Jose Soto, Staff Reporters
February 27, 2014
Around 400 people from the El Paso community attended the one-day symposium on "Demographic Change in Texas," including UTEP students and faculty, community leaders, business leaders and elected officials.
The symposium is a larger part of The Texas Tribune Festival. According to their website, the festival  "brings together the states most prominent thinkers, politicians and public servants for… debate."
The symposium began at 8 a.m. and was broken down into four sections including a welcome, "Will Boom go Bust? Changing Populations Changing Politics," "Health Care and the New Texas" and "Education and the New Texas."
The four panels included local and state officials. Among them were Democratic Texas State Senator Jose Rodriguez, Democratic State Representative Mary Gonzalez and County Judge Veronica Escobar.
The symposium provided the medium by which state officials could explain and defend issues relevant to the community.
"I think it was great that it (the symposium) was here on campus talking about democratic shifts… because the state and the rest of the nation will soon look like El Paso, it's imperative that we address the challenges," Escobar said.
A large part of the conversation involved voter education and how to get young people to vote.
"Democracy is only a generation away from being extinct," Gonzalez said.
As part of the symposium, Evan Smith, president and CEO of the Tribune, held a substantial interview with UTEP President Diana Natalicio, whose interview focused on UTEP and it's evolution.
Natalicio talked about changing the mentality of the college when she first took office in 1988, to UTEP's interest in becoming a tier one college.
Her focus then was to "change the mentality of ourselves," she said, by altering racial and cultural perspectives and focus on refraining the stifling of the community, referring to it as a "systematic reform."
Natalicio  addressed how UTEP's own demographics continuously need to relate to those of the city.
America Tirado, a statistics graduate student who attended the symposium, believes it played a critical role in discussing issues relevant to her life.
"It's important to me because it's a part of my life… I can make an impact, I can make it better," Tirado said. "The Hispanic population is growing, and if we don't educate the Hispanic population we're going to fall behind."
Marcella Van Hoove, administrative director of Managed Care in El Paso, believes the symposium is important because, "it brings our partners in the community together to explore opportunities for the betterment of our community."
Smith wants the symposium to promote civic engagement.
"We talk about issues that matter, that people start thinking and then they also get involved… Everyone needs to be on the playing field," Smith said.
Maria Esquinca and Jose Soto may be reached at [email protected]