'What do you want to fab?'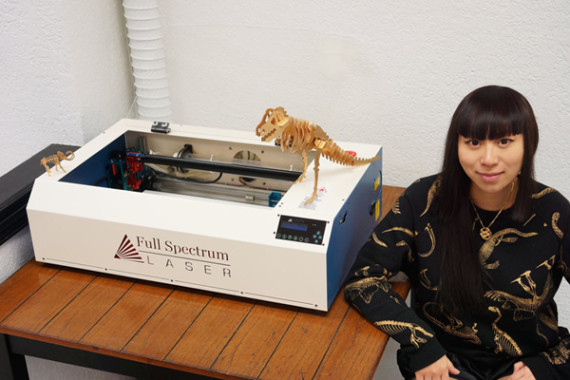 Fab/rication/Lab/oratory or Fab Lab, has been spreading across the world and has finally hit El Paso. It will open its doors on March 1.
Fab Lab supports STEAM (science, technology, engineering, arts and math) by engaging the public in fun DIY projects and workshops.
"We want to promote curiosity, creativity and experimentation," owner Cathy Chen said. "Hopefully, we will be an incubator for amazing interdisciplinary collaborations between artists, engineers, designers, scientists, thinkers… the possibilities are endless."
Fab Lab originated at the Massachusetts Institute of Technology. It also provides accessible space, hardware, software and recourse support for education, research and development of digital fabrication methods.
They currently own five core machines used for designing and developing projects.
The Delta Geometry Kossel Mini 3-D Printer deposits layers of biodegradable plastic, called PLA, to build up 3-D objects. Another machine is the Shapeoko 2 precision mill that is used for more detailed projects such as jewelry making, package design and even circuit boards.
"We have done a few projects already that showcase the capabilities of each of our machines," Chen said. "We have made 'Star Wars' snowflakes on the paper cutter as well as a mounted moose head on the Shapeoko mill. We also made our own storefront sign. But what we're really looking forward to is filling up the space with art and designs from the community."
"What do you want to fab?" is Fab Lab's slogan, and according to Chen, their goal is to ask people, "What is it that you need or want to make that is useful or fun for you?"
These workshops are also for kids. Fab Kids is a series of age-appropriate, learning fabrication opportunities for young learners.
"We plan to host a creative workshop soon after an opening featuring MaKey, a programmable printed circuit board that allows anyone armed with a few alligator clips to turn anything that can conduct even a tiny bit of electricity into a controller or keyboard," Chen said. "For example, you can play 'PacMan' with pencil drawings or use your computer with an alphabet soup keyboard."
Once it opens, the Fab Lab will be one of a few locations in the world and the first one in the state of Texas.
"I think the Fab Lab will become popular because it seems really interesting and people like to be involved with things concerning this," said freshman education major Kim Flores. "I am looking forward to seeing all of the things that it has in store for El Paso."
They are currently looking for any donations such as computers, books and raw materials. Donations are tax deductible. Any interested donors and sponsors may contact Cathy Chen at [email protected]
Amber Gomez may be reached at [email protected].