Victories give tennis team a boost before road games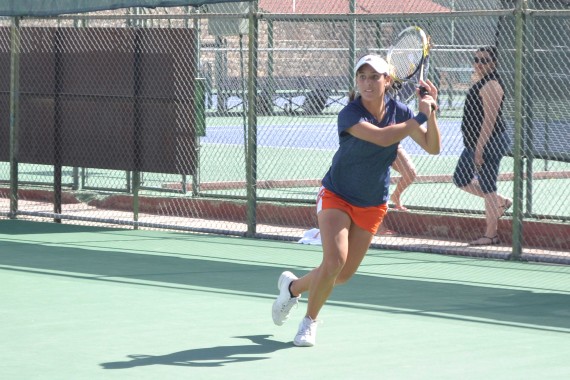 This past weekend the UTEP tennis team went 2-1 in their last home stand until late March.
The Miners came up short on Feb. 22 against the Abilene Christian Wildcats, losing 5-2, but bounced back on Feb. 23 against the Southern Mississippi Golden Eagles and the Texas-Permian Basin Falcons, winning 6-1 and 7-0, respectively.
Abilene Christian handed the Miners their first home loss of the season and halted the Miners' home-winning streak at eight. Due to a wrist injury, the Miners were without their number one player senior Rebecca Calvillo. The Miners were forced to change their lineup and suffered for it.
"We thought I was going to be good to play yesterday (Feb. 22)," Calvillo said. "I had a cyst taken out. I had bruising and I was really sore so I couldn't play 100 percent tennis. So I rested and today (Feb. 23) I was fine."
The two standout Miners over the two-day playing period were seniors Gabi Vazquez and Calvillo. Both Miners went undefeated in singles and doubles, helping the Miners secure back-to-back wins on Feb. 23.
"They have been stepping up for us," said head coach Myriam Sopel. "They have been doing a great job, leading the team and lifting the team up. Their level of play and atmosphere has lifted everybody up and their positive attitude has been great."
Calvillo herself is off to another solid start for the Miners, posting a 13-9 singles record and 15-7 doubles record. The stellar senior is looking to finish her career with four-straight winning seasons in singles and doubles. Injured or not, Calvillo got through a tough second day to lead the Miners to victory.
"It was tough playing the whole day," Calvillo said. "Most of us were injured, but that is something we just had to overcome. It is really nice though to play at home and feel the support of the fans and as a senior I am just enjoying every single match."
Vazquez is in a similar situation as a senior trying to enjoy her last season. During the summer she dealt with double wrist surgery, then surgery once more on her right wrist beifore the season resumed in December. Despite not being fully recovered, Vazquez is off to a good start and is 5-0 with her new doubles partner sophomore Matilda Rose Tench.
"It feels good to win, especially after having double wrist surgery—it was really hard trying to gain that confidence back at the beginning of the season," Vazquez said.  "Now I am more comfortable and hitting my shots. It feels good, I am not at 100 percent yet, but they are getting better as time goes on."
The Miners are 5-6 overall and 2-0 in Conference USA with wins over Texas San Antonio and Southern Mississippi. The Miners now have a lengthy road trip ahead. In a three-week span, they will face conference opponent North Texas, nationally-ranked Southern Methodist and a solid Boise State.
"We are going to have three weekends on the road and then a homecoming in a month," Sopel said.
"There are plenty of matches to look forward to. There are many good teams–SMU is ranked so that will be a great match for us. Also against Boise State, which we are looking forward to. It is tough to be on the road for so long, but I think the experience will be good for us."
Javier Cortez may be reached at [email protected]
About the Contributor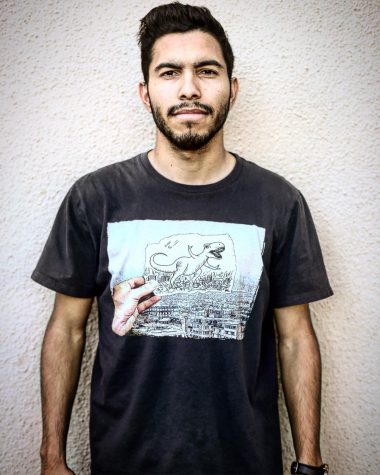 Javier Cortez, Staff Reporter
Javier Cortez is a staff reporter for The Prospector. He is a senior multimedia journalism major, with a minor in English Rhetoric.

Javier was born...