The UTEP women's basketball team defeated the East Carolina Pirates 81-74 and climbed to second place in Conference USA only behind Middle Tennessee State.
Sophomore guard Jenzel Nash called it the most physical game of the year. In their bout versus the East Carolina Pirates, the Miners clawed and fought in a highly critical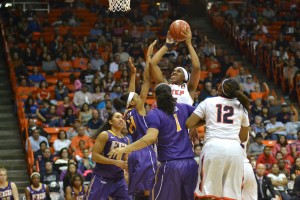 game to come out with the victory by a score of 81-74.
"I'll tell you what, that was one intense game," said head coach Keitha Adams. "It was extremely intense."
There was 49 personal fouls called and four technical fouls assessed, all to the Pirates.
The game was close the entire way until the Pirates were forced to foul. The Miners hit their free throw shots. They shot 83 percent from the charity stipe for the game.
Senior Kayla Thornton had a shy four points in the first half, but finished the game with 23 points. She dove for the ball and scrapped her way all throughout the contest.
"When everybody plays like Kayla, diving for balls and running and rebounding, I feel like we can't be beat," Nash said.
Nash had another impressive outing as she completed a 22-point performance. She did have eight turnovers and three steals
"I kept playing. Every time I get a turnover I try to get a steal," Nash said
As a team, the Miners forced 32 turnovers.
"That game was hard-nosed," Nash said. "Both teams were going at it and were competitive. At the end I think we were a little more competitive and that why we won I think."
Late in the game, senior Kelli Willingham hit a free throw that put her into the 1000-point club. She finished the game with 15 points and a three-pointer that made the game a little out of reach for the Pirates.
"It was a great win against a very good team," Adams said. "We hit some big shots at key times. We just kept hanging in there.
Adams gives credit to the loudness and energy of the crowd as well. The Miners improve to 10-3 in conference with a 21-5 overall record.
Luis Barrio may be reached at [email protected].