'Fooducate': let your phone help you live a healthier life
With individuals trying to keep their New Years' resolutions and a myriad of people trying to better their eating habits, "Fooducate" is a mobile application that offers many interesting and convenient features to start eating better, lose weight and broaden your knowledge of the food around you.
"Fooducate's" slogan is "eat a bit better," and it does justice to that by  connecting you to the food you consume, or are about to consume.
The main feature of the app is its barcode scanner, which allows you to use your phone's camera to scan any commercial food item.  It then grades the product from A to D with 10 different grades: A+, A, A-, B+ and so forth. This algorithm is based off of the product's nutritional facts and ingredient list. If a product doesn't use processed ingredients, it will score higher than that of a product that does.
"Fooducate" differentiates beneficial nutrients and "enhanced" nutrients, "natural" flavors and flavors that are actually found in foods. A product that has been enhanced by adding vitamins and minerals, natural flavors or colors won't score high with "Fooducate," even though to the consumer's eye, the product might seem like a good purchase.
Every product that is scanned through "Fooducate" is categorized and then graded within its category as well.  Bread, milk, snacks, etc., are all categories.  However, if a product offers a better array of benefits within its category as opposed to other products, it will score higher. For instance, a cereal that offers a natural source of fiber will score higher than a fiber-fortified yogurt.
Once you've started scanning products to see their grade, it becomes a fun habit. You'll be surprised at the grades some deceptive products will get.
The app also offers a browse section where you can search for high-graded products within different categories such as beverages, prepared foods/soups and fast food.  This feature is great for when you are out and about and need to make smart choices about what you will consume while at stores or restaurants—the better the product, the higher it will be on the list. For example, Chick-fil-A's chicken sandwich's rated at a C+.
"Fooducate" also allows you to track your consumptions for the day, enabling you to make smarter decisions for what you eat next.  It will count your calories and display your daily intake percentage of different nutrients like iron and fiber. This  way you can be sure to not over consume some nutrients or not consume some at all.
It will also offer healthier options  depending on your consumption habits. This particular feature is great for those who are trying to lose weight by eating better and for those who need help tracking their eating habits.
Friendly and easily adaptable to any lifestyle, "Fooducate" is available for download for both iOS 7.0.5-based mobile phones and Androids as well.
Visit fooducate.com for more information regarding this mobile application.
Jose Soto may be reached at [email protected]
About the Writer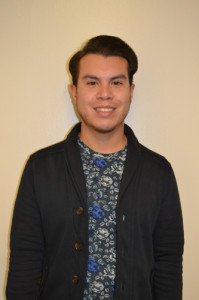 Jose Soto, Staff Reporter
Jose Soto is a multimedia journalism major with a minor in creative writing. He joined The Prospector team in November of 2013 as an entertainment reporter....