Sex industry course offers discussion on taboo subjects
"You want to keep talking about it. You want to make a change." -Memo Bayona, sophomore psychology major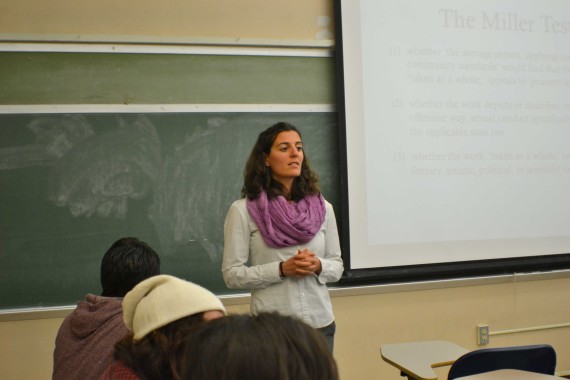 Maria Esquinca, Staff Reporter
February 11, 2014
In a small classroom, hands are being raised in the air and loud murmurs are echoing across the room.
On the wall you see the words "PORN AND FREE SPEECH" projected in bold white letters. This is just a normal day in Associate Professor Naomi Fertman's Women and Work In The Sex Industry class.
"We're really here to learn, to respect different points of view," said Esther Zapata, junior public relations major.
The course is offered under the Women's Studies Program and is taught by Fertman, who took over the course three years ago. It's also offered online.
Fertman breaks the course down into three parts—pornography, prostitution and sex trafficking. Through its content, the course pushes the boundaries by taking a comprehensive look into traditionally taboo subjects.
"It is really kind of an examination of a culture…that we don't understand here in the U.S. There's a lot of stereotyping, a lot of biases towards working in the industry and there's a lot of misinformation," Fertman said.
Part of the allure of the class is that the subjects are not traditionally talked about.
"It was something out of my comfort zone and I wanted to explore that," said Jacqueline Armijo, senior multimedia journalism major.
Women Studies Director, Brenda Risch, said one of the strengths of the class is that it gives students a venue to talk about taboo subjects and that "they are educated in the many ways in which our culture is exploitative of women and children, and men too," she said.
The course is not easy to get into. Students often have to wait a semester or two before being able to register for the class.
"I tried registering for it twice and the class was full…the third time I was able to get in because I registered super early…. I was super excited," said Naomi Rivas, senior multimedia journalism major.
However, students are quick to find that the class is not what they expected.
"When I started the class, one of the first questions the professor asked us was what is your perspective or your opinion towards prostitution and if we believe that it is a choice," Rivas said. "I remember the response that I wrote down … she later in the semester asked the same questions and my response was completely different."
Despite the misconception that the course might mainly attract women or women's studies majors, it appeals to a broad range of majors and genders.
"Another thing that I love about this class is that it's not only about fighting against injustice, but about breaking stereotypes," said Memo Bayona, sophomore psychology major.
Fertman finds a way for her students to apply what they learn outside of the class, which she said is different from other courses.
"We are going to have an Immigration and Customs Enforcement agent talk to the students so that they can have some network and understanding of how the issues are affecting this community," Fertman said. "So building that bridge between the academic and the real world, this course allows for that bridge to be built."
Students said they leave the course with a fresh perspective.
"It's a class that you go out of it and you're still talking about it, you keep thinking and you go into research," Bayona said. "You want to keep talking about it. You want to make a change."
Maria Esquinca may be reached at [email protected]