"Trials of El Pobrero Campesino": Annual faculty dance highlights UTEP's history and talent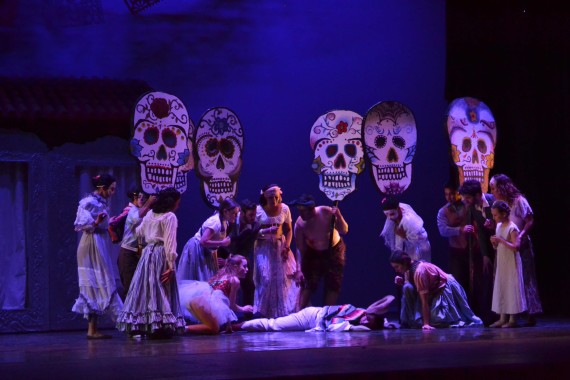 It's no secret that hard work, perseverance and dedication will ultimately provide great results.  The UTEP Department of Dance and Theatre took this mantra by the hand as they prepared to showcase "The Trials of Pobrero El Campesino" as this years' Annual Faculty Dance Concert––displaying both their physical endurance and their passion for dance.
The department held the first performance of "Trials of Pobrero El Campesino" on Feb. 7 at the Wise Family Theatre, located on the second floor of the Fox Fine Arts building, to an enthusiastic crowd of around 60 attendees.
"Every year, we start coming up with ideas to highlight life here on campus," said Adriana Dominguez, director of audience development for the department.  "For the centennial, we wanted to celebrate by highlighting the different relationships UTEP has."
By conglomerating Russian composer Stravinsky's "Petrushka" ballet, Gershwin's jazz-influenced "Three Preludes" and the Bhutanese influence noticeable throughout campus, the department's production of "The Trials of Pobrero El Campesino" awed the crowd with the original choreography.  Lisa Smith, professor of dance at UTEP, and Andrea Vasquez, assistant professor of dance, both choreographed the performance along with guest choreographer Myron Nadel, who was previously associate dean of the College of Liberal Arts from 1998-2006.
The dance recital honors both it's Mexican-American and Russian influences felt throughout the city during that time period by highlighting the Mexican Revolution and the Russian Ballet Russe, which was preparing its American tour with "Petrushka."
"I was trying to think of a way to commemorate UTEP's centennial," Smith said. "In my research I found that at the same time the Mexican Revolution was going on here in 1914, the Ballet Russe was preparing its first American tour.  The tour would feature the ballet, 'Petrushka,' about a puppet who longs for human feeling, self-actualization and freedom. To me, that reflected what much of the revolutionaries' concerns, and from there I got the idea to reset 'Petrushka' on our border–recreated as a story about 'Pobrero," a peasant puppet character who struggles with his circumstances."
Entirely assembled by the faculty, students were able to take part in the vision and the work process of their own teachers and professors.
"We are extremely proud of our students' talent and achievements, and this production really showcases their abilities," Smith said.  "We really value our position as dance educators, producers and artists in the region."
According to Sarah Escobedo, senior dance performance major, she said that working with the dance faculty offers different ideas and approaches every time we come together to create these works of art.
"It has definitely been different than the other times that I have worked with them, but it has been a wonderful experience of discovery and challenges that have helped me become the dancer that I am now," Escobedo said.
"The Call of the Raven," is one of the original choreographed pieces done by Andrea Vasquez.  It is derives from the principles of Bon, a religion mainly found in Bhutan.  It tells a soul's journey through the five elements while tying in the five human senses.  This particular movement is accompanied by actual Bhutanese music.
"It was a dazzling performance that needs to be credited.  It's definitely something we need to promote here around campus, it not only depicts the history of our college during the time in which it was built, but also highlights the talent that our school offers," said Jose Mendoza, senior media advertising major.
"The Trials of Pobrero El Campesino" will run at the Wise Theatre on Feb. 7, 8, 13, 14 and 15 at 8 p.m., and Feb. 9 and 16 at 2:30 p.m.  Ticket prices are $13 for the general public and $11 for UTEP faculty members and $9 for UTEP students.  Children's tickets are also $9.  On Feb. 8, UTEP alumni are eligible for a buy one, get one free promotion with a valid alumni card.  On Feb. 13, UTEP faculty and staff may enjoy the same offer, and military members are offered the same promotion on Feb. 14. For more information, please call the Department of Theatre and Dance at (915)747-5118 or visit www.theatredance.utep.edu.
Jose Soto may be reached at [email protected]
About the Contributors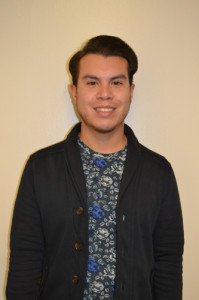 Jose Soto, Staff Reporter
Jose Soto is a multimedia journalism major with a minor in creative writing. He joined The Prospector team in November of 2013 as an entertainment reporter....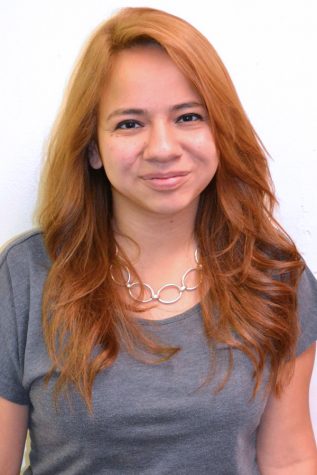 Michaela Roman, Editor-in-Chief
Michaela is a Senior Digital Media Production major at The University of Texas at El Paso. As the Editor-in-Chief, and former Photo Editor of The Prospector,...