[ezcol_2third]
WASHINGTON – A new program will allow thousands of young immigrants to go to college without having to worry about money.
Donald Graham introduced TheDream.US, a new scholarship fund, at a press conference Tuesday. It will give full-ride scholarships to more than 2,000 DREAMers over the next decade.
"It will be terrible for them and for our country if we don't help them," Graham said. "There is no telling what many of them will achieve in their lives."
Young people described as DREAMers are those brought to the United States when they were  children. They would qualify for legal residency if Congress passes the Development, Relief and Education for Alien Minors Act. DREAMers cannot receive federal financial aid for college, although some states provide aid and charge in-state tuition.
TheDream.US has raised more than $25 million. Donors include the Graham family, the Bill and Melinda Gates Foundation, Bloomberg Philanthropies and the Inter-American Development Bank. The program was also funded by Henry Munoz, an activist and philanthropist, and former Commerce Secretary Carlos Gutierrez.
Graham, CEO of Graham Holdings, and his family recently sold The Washington Post to Amazon CEO Jeff Bezos.
"This is a bipartisan effort. There are Republicans, Democrats and independents," Gutierrez said. "Everyone sees the power of this effort. This is right for our country, our economy and our society. … We want these DREAMers to succeed."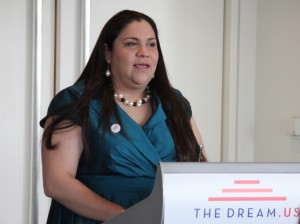 Manuel Luna, a DREAMer and one of the scholarship recipients, came into the U.S. at the age of 3 from Mexico and grew up in Brooklyn.
Luna, 18, a liberal arts major at Kingsborough College in New York, said he was taking only two classes at a time since more classes would have been a burden on his family, but he didn't want to put his dreams on hold.
After going to his college counselor to seek financial help, he was able to submit a TheDream.US application.
"I got approved two days before Christmas," Luna said. "It was the best Christmas present ever. It was the best feeling I have ever had."
Luna said he wants to be a lawyer and eventually give back to his community by focusing his career on helping immigrants.
Gabby Pacheco, DREAMer and program director for TheDream.US said it's an obligation for her to help others have their dreams come true.
"My commitment and my promise that I made to myself when I graduated from college was that I was going to ensure that other people had the opportunity I had," Pacheco said. "It's just amazing to see your dreams come true. We are going to be impacting the lives of so many people. It's really fulfilling."
Pacheco said she is thankful for all the support TheDream.US has had. The founders had expected to raise $1 million and they surpassed the amount by millions.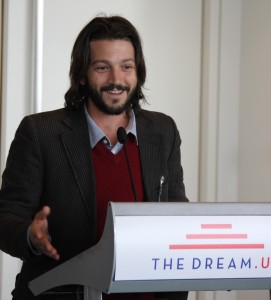 "It's a testament of what it is to dream, it's a testament of what it's like to fight, and it's a testament of humanity," Pacheco said. "When people come together we are able to move forward."
Pacheco said that 400 full-ride scholarships will be awarded this year. The program has already given 39 scholarships.
Applicants must meet the minimum 2.5 grade point average and be eligible for Deferred Action for Childhood Arrivals.
DACA allows young immigrants to remain in the country. go to school and hold jobs.
Twelve colleges and universities partnered with TheDream.US. These schools are located in California, D.C., Florida, New York and Texas. They include Trinity Washington University, the University of Texas at El Paso and the City University of New York.
Alejandro Alba is a senior multimedia journalism major at UTEP. He is currently participating in the Scripps Howard Foundation's Semester in Washington program. He may be reached at [email protected].
[/ezcol_2third]
[ezcol_1third_end]
Students react to Monday lecture by immigration expert
By Helen Yip
The Prospector
A Feb. 3 lecture touched home for many students affected by immigration law and history.
Dr. Allison Brownwell Tirres, assistant professor at DePaul University College of Law, gave a talk entitled "Deportation and its Discontents: Reflections on a Century of Immigration" as part of the UTEP Centennial Lecture Series, and some students had mixed emotions about the current immigration policy.
Amy Ross is a doctoral student in psychology who became a naturalized citizen last year after a 16-year process.
Ross is currently studying legal psychology at the Center for Law and Human Behavior and says the immigration process was just too long.
She emigrated with her parents from the United Kingdom in 1997. Her father was in the Navy and came to El Paso from Rhode Island after being stationed here. Ross said her father fell in love with El Paso.
Ross said the citizenship process for legal immigrants slows down because of undocumented immigrants.
"There should be two systems, one to deal with people that are in a desperate situation that may have to be illegal, and one for regular people applying," she said. "You can't really compare us as the same because we come from a stable country."
She said people who work through the system legally shouldn't get penalized by waiting longer.
David Hernandez, a junior anthropology major, said he would like to see something done to help immigrants.  His main concern was for-profit prisons that house undocumented immigrants.
"I thought it was really strange… there seemed to be a profit motive for people inside the government or people outside of the government to be making theses kind of decisions based upon a money basis," he said. "It doesn't seem right."
Tirres addressed for-profit prisons in her speech Monday afternoon.  She said it's all part of outsourcing.  It's expensive to run a prison, so the government will find a private company to run it.
The prison then gets a per diem payment by the government per prison inmate they keep.
Tirress said Immigration and Customs Enforcement has been told to keep a certain number of beds full.
Tirres also focused on the need to understand the past and the law in order to correct current mistakes being made with immigration.
She ended her lecture with focusing on choosing a new path.  One that would "Align our immigration law with our commitments to democracy and equality system that entails a more humane treatment of those that are within our boarders," Tirres said.
Helen Yip may be reached at [email protected] and can be followed on Twitter @HelenMYip_prospy.[/ezcol_1third_end]