The Miners battled in a tough dogfight tonight and used crucial last minute stops to defeat the Louisiana Tech Lady Techsters by a score of 85-75 for a fifth straight win.
Despite winning the turnover margin and outrebounding the Lady Techsters, the Miners had to put up with some smooth shooting from sophomore guard Lulu Perry who scored a game high 24 points, as she made six out of seven three-point shots.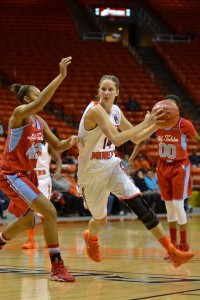 As a team, the Lady Techsters made 11 threes-pointers.
"They have some good little guards that can create off the dribble" head coach Keitha Adams said. "They're speedy and they can shoot it, you have to give them credit. They came in and played us tough."
Louisiana Tech kept themselves in the game because of their shooting. It was in the last three and a half minutes where the Miners spurred into a 16-5 run.
The Miners had four players in double figures. It was the seniors that led in scoring tonight for the Miners. Both posted a double-double as well. Senior center Kristine Vitola posted a season-high 23 points to add with 10 rebounds. Kayla Thornton did her thing by putting in 22 points and 11 rebounds. Junior guard Stacie Telles had 10 points and freshman guard Sparkle Taylor had a career-high 15 points.
Vitola made a couple of crucial shots in the last minutes of the game to help UTEP secure the win.
"It's just about finding the open player and that is the team ball that we play. That is what gets us going, finding the open player and moving the ball. All I had to do was score an open basket," Vitola said.
Taylor had 15 points and some tough inside presence that helped her grab 5 rebounds and helped her team get extra possessions.
"I thought Sparkle did well. She had 15 points in 10 minutes. That is great production," Adams said. "She put the ball in the hole and she got her hands on some rebounds for us. She did a good job."
The Miners had 15 turnovers in the game but 10 of those were in the first half.
It's the Miners first win ever against their old Western Athletic Conference rivals. With the win UTEP improves to 18-4 overall record with a 7-2 conference record.
They have momentum on their side which is all the more to their advantage when they play Florida International University and the number one scorer in the nation at 30 points a game, Jerica Coley.
"Congratulations to her, she's a great player but we just have to play defense. We just have to come out and play team defense. Her 30 points is really not an option," Thornton said.
Luis Barrio may be reached at [email protected].