Le dan "Sazón de Mujer" al teatro de Fox Fine Arts
Cada platillo tiene su sazón y, al parecer, cada mujer tiene su propio platillo en la vida también. En la obra "Sazón De Mujer", dirigida por Julia Sosa, se iluminan los obstáculos y esfuerzos que la mujer enfrenta por medio de la cocina.
La obra se presentó por primera vez el 30 de enero en el teatro de sótano del edificio Fox Fine Arts en UTEP, con solo alrededor de 15 personas en asistencia. Solamente utilizaron unas cuantas piezas como parte del escenario.
"La obra lleva un tema sobre las decisiones que las mujeres deben de tomar para poder enfrentar a su futuro desafortunado. Y todo esto lo hacen mientras nos platican de la comida y recetas de su lugar de origen", dijo Sosa, estudiante de cuarto año en teatro.
La obra es parte de su practica final en dirección, dijo Sosa.
"Me gustaría que la audiencia se valla con nuevas historias que contar ya que esta obra habla de la diversidad que existe dentro del estado de Chihuahua. Y que ojalá esta obra cree alguna reacción en la gente que la vea", dijo Sosa.
"Sazón" es una obra escrita por el mexicano Victor Hugo Rascón Banda.  En el panfleto de la obra, se nota el dicho por Rascón "el norte es un gran generador de conflictos porque ahí empieza la nación".
El norte trabaja como ajuste de la obra, que se trata sobre tres mujeres que han pasado por tragedias que transforman sus vidas.  Cada mujer da sus recetas y maneras para idear unos ricos platillos. Al mismo tiempo, a través de las recetas, se empiezan a desenvolver las angustias de las tres mujeres.
La primera, una menonita, vivía bien hasta que su esposo lo perdió todo al banco. No tardan mucho en quedarse sin otra opción mas que el esposo se vaya a los Estados Unidos. Es cuando la menonita se queda sola y pierde el gusto de cocinar, ya que pasa muchísimo tiempo sin ver ni a su esposo ni a su hijo.
La segunda mujer, una maestra rural, nos cuenta como fue que encontró a su marido a cual le cocina con mucho gusto.  Después de que una muerte familiar deja a su marido en shock, el queda preso.  A pesar de que ella sufrió mucho mientras su marido le ocultaba la verdad sobre su trabajo, ella le lleva su platillo favorito hasta la cárcel, aunque los guardias no lo permiten.  Como la menonita, la maestra se queda a enfrentar la vida sola.
La tercera y última mujer se trata de una guerrillera que huye del gobierno.  Ella se lastima mientras corre de unos soldados y queda inconsciente. Un tarahumara la encuentra y la salva, curándole sus heridas.  Ella se queda a vivir junto con el y se queda como su compañera y madre de su hijo. Sin embargo, ella no lo quería así.  Nos da sus sugerencias de platillos mientras le coloca un poco de política e historia de Mexico a la obra.
"Sazón de Mujer" se presento el 30 y 31 de enero y 1 de febrero.  Lluvia Almanza protagonizó a Maria Muller, la menonita.  Denisse Mendoza a Consuelo Armenta, la maestra y Paloma Pelayo a Amanda Campos, la guerrillera.  Las tres estudian el teatro en UTEP.  Esta es la tercera obra dirigida por Sosa.  Para mas información sobra la obra y mas funciones, visita www.theatredance.utep.edu.
Jose Soto puede ser encontrado en [email protected]
About the Writer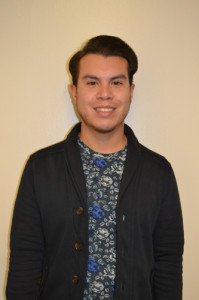 Jose Soto, Staff Reporter
Jose Soto is a multimedia journalism major with a minor in creative writing. He joined The Prospector team in November of 2013 as an entertainment reporter....