UTEP uses big second half to come back to defeat Rice 68-57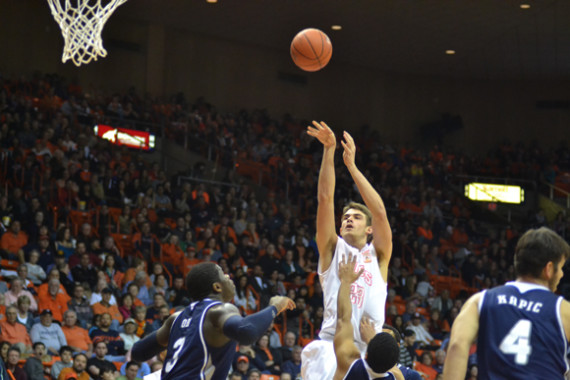 Hang on for a minute...we're trying to find some more stories you might like.
It only took the Miners 35 minutes to get their first lead of the game, as they pulled out a come from behind victory to defeat the Rice Owls 68-57 in front of the second largest crowd of the season 11,036.
From the start of the game the Owls took control of the game, starting with an 8-0 run in the first five minutes of game. Head coach Tim Floyd was nothing but gracious towards Rice after the game.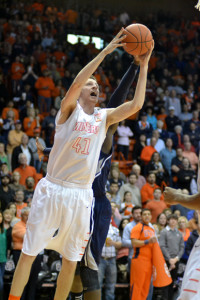 "To come in here and play with that kind of poise on the road in front of our crowd was outstanding," Floyd said. "We don't win this game without our crowd on the road against Rice. They just did a phenomenal job."
Down by nine to start the second half, the Miners responded with a quick 9-0 run to tie the game. Rice responded with a 7-0 run to immediately take the lead back and held the lead for the next for the next eight minutes.
With less than 10 minutes to go the Miners picked up their defense and slowly but surely took the lead and never relinquished it.
"The last 10 minutes of the ball game were the keys to the game for us," Floyd said. "It was our athleticism and will to defend."
In the second half the Miners outscored Rice 47-27, including a 30-10 run in the final nine minutes of the game and no shot was bigger than junior guard C.J. Cooper's four-point play to give the Miners their first lead of the game with six minutes remaining in the game.
"That was big," said junior guard Julian Washburn. "It was a big momentum shift. I feel after that we took the game over, Rice fell apart after that play."
Cooper finished the game with 17 points, all coming in the second half. Cooper's 17 points tonight is his fifth straight game scoring in double figures.
"I just had to make shots," Cooper said. "It was something I know I had to do. I had to be a little more aggressive, my teammates found me when I was open and I had to knock them down."
Along with Cooper, Julian Washburn contributed 17 points, 11 of them in first half and freshman forward Vince Hunter had 14 points and nine rebounds, while going 8-9 from the free throw line.
Floyd was proud of the crowd in attendance tonight as well as the Miners. The Don pulled in over 11,000 thousand tonight, just a little under 100 short of eclipsing the season high crowd against New Mexico State on Nov. 23.
"It was really big," Cooper said. "They helped us a lot, we needed them in big situations on defense and they came through for us. I'm glad we had a big crowd like this tonight."
The Miners improved to 16-6 (6-1 Conference USA) and have won 11 of their last 12 games, now UTEP will have two consecutive road games against East Carolina on Feb. 6 and Old Dominion on Feb. 8.
Javier Cortez may be reached at [email protected]

About the Writer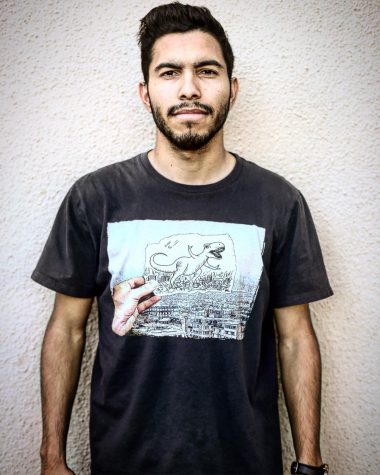 Javier Cortez, Staff Reporter
Javier Cortez is a staff reporter for The Prospector. He is a senior multimedia journalism major, with a minor in English Rhetoric.

Javier was born...