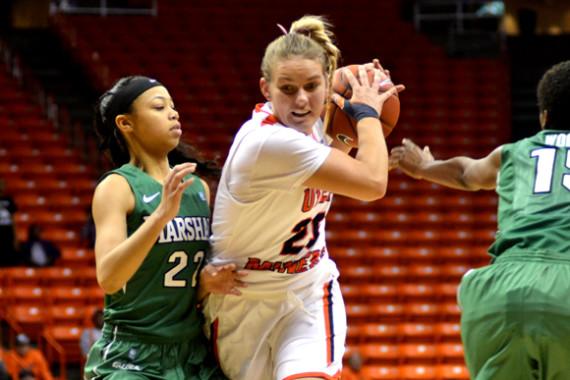 Tonight the Miners handled the Marshall Thundering Herd by a score of 77-50 and are now riding a three game victory streak. It comes off the heels of the Miners dropping two games in a row.
The Miners are back to their old ways of winning. The Miners had a fair first half with an 11-point lead.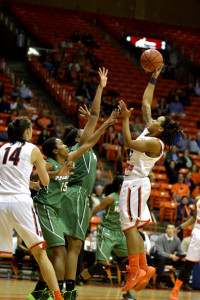 As they have always done this season, the Miners put the pedal to the metal in the second half and went on a 22-10 run that helped to get minutes for all players on the team.
The bench outscored the Thundering Herd by a 31-18 tally. Most of that was to the shooting of sophomore guard Irene Gari who connected on 66 percent of her shots and totaled 18 points, a season high for the Oliva, Spain native.
"It's been a long time. Today I stepped out on the court and I tried to do my best like always," said Gari. She made all her free throws and shot 40 percent from distance. "Hard work pays off."
She capped the night as leading scorer for both squads. Head coach Keitha Adams liked Irene's play, but also likes that she cares so much for the team,
"She came in and gave us a really good push in the first half. she's a very unselfish player," Adams said.
The Thundering Herd only kept themselves in it as best they could tonight because of some three-point shooting they had in the first half. For the game, Marshall shot 28.6 percent from the field. Defense has been the major emphasis in the recent practices and will continue to be worked on throughout the season.
"We've been working on our defense a lot and were going to continue. The Charlotte game where we gave up 92 points is plastered all over the practice facility, in my office, and I'm reminded of it everyday. It felt nice to do a good job on that end of the fork," Adams said.
Junior guard Stacie Telles had zero turnovers and seven assists. She got on the floor to keep possession and is coming into her own style of play.
"I'm just going share the ball and try to get my teammates open and find the hot hand like Irene tonight," Telles said. "I think we played good team defense tonight. We had a game plan going in and we executed it really well."
An area to improve is the rebounding margin. Although the Miners outrebounded the Thundering Herd by two but did get outrebounded in the offensive boards category.
The Miners had 21 team assists and three Miners total in double figures. Jenzel Nash did not play due to lack of effort in practice.
The Miners' next game will be on Saturday in New Orleans against the Tulane Green Wave.
Luis Barrio may be reached may be reached at [email protected].