Pickaxe unveils the work of 12 esteemed artists
"I hope that my work will give an insight into UTEP's success in the first 100 years." – Lyuba Titovets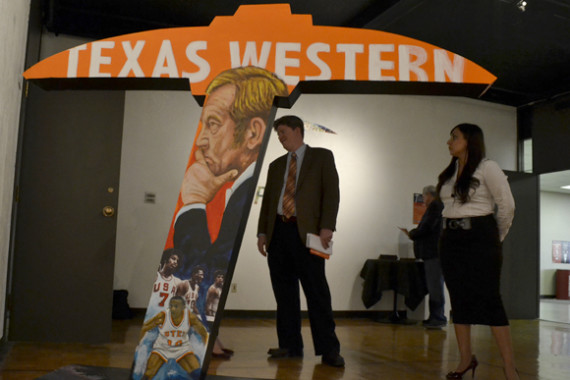 The 12 local artists who were challenged to cover a 7-foot canvas —shaped like a pickaxe—into a commemorative piece of art in October, unveiled their work Jan. 27 at the Union Building East.
Artists were given the option to share a memory or a story that involved UTEP's 100 years of existence. The exhibition will be showcased at the Union Gallery until Feb. 3. The exhibit will later be displayed throughout El Paso.
"We selected 12 esteemed artists from the El Paso, Juárez and Las Cruces area and one up-and-coming UTEP art student," said Stephanie Quiroz, a communication specialist for Government Employees Credit Union, the company that created the challenge. "The creativity and passion put into these works of art are apparent and amazing. Each pickaxe is unique and it's remarkable that a blank canvas has been transformed into 12 masterpieces."
The artists selected to work on these pickaxes are Jesus "Cimi" Alvarado, Margarita Cabrera, Suzi Davidoff, Francisco Delgado, Gabriel Gaytan, Linda Hains, Anna Jaquez, Jeff Litchfield, Candy Mayer, Lyuba Titovets, Becky Hendrick and senior drawing major Fabian Uribe.
"It was initially supposed to be ten artists instead of 12," Floyd Johnson, art auction coordinator said. "The reason was because it was supposed to be ten for each decade, but we were really impressed by the artists and decided to pick 12."
Each pickaxe has a different concept and artists used various art mediums.
"This is my first sculpture," Uribe said. "I mainly draw, I don't usually get to play with the 3D form but I'm extremely happy with the turnout and I want to make more."
Uribe was the only student artist selected to work on the pickaxe project and he said it was rather intimidating but very rewarding.
"It is great to see that all my dedication and hard work has paid off, and it was great to see people coming out to the unveiling to appreciate our work," he said.
His sculpture is a hollow metal light box sculpture, and holes are indented in the metal to reveal objects and landmarks important to El Paso, such as the star on the Franklin Mountains.
"Over time the sculpture will start rusting," Uribe said. "I did this on purpose because I want the color of the sculpture to turn to copper, in order to emphasize the desert and UTEP."
Russian artist Lyuba Titovets named his sculpture "Blossom in the Rocks." The pickaxe symbolizes how UTEP has transformed itself from a rocky land to a beautiful garden with distinguished architecture.
"Gardens in all seasons spring from the rocks; architecture changing throughout its history; and all different kinds of real people—from past and present—have created legacies of the place and are all part of my painting," Titovets said.
"I hope that my work will give future generations an insight into UTEP's success in the first 100 years."
Art lecturer Susan Davidoff, who has taught at UTEP for 23 years, was also part of this exhibit.
"My piece is copper leaf and refers to UTEP's history as Texas College of Mines and Metallurgy," Davidoff said.
Although it was challenging for her to work on a sculpture shaped like a pickaxe; Davidoff said she was pleased to be part of this exhibit.
"I think this particular centennial event is a fun way to celebrate UTEP and will let people see a variety of work by local artists," Davidoff said. "I hope it's very successful in its goal of raising scholarship funds."
Keith Erekson, executive director of the centennial celebration and a professor of history, said the works of art will be displayed at GECU branches for public viewing.
"The pieces will go all over town," Erekson said. "They will be on display at the UTEP Library, in the El Paso Convention Center and the other 10 will go in different GECU locations."
In the fall of 2014, the artwork will be auctioned off to the public and funds will support the GECU Foundation's R.C. Morgan Scholarship Fund.
"This endowment fund benefits UTEP students," Quiroz said. "We support helping our community thrive, and providing students the means to achieve their goals through education is very rewarding."
Erekson said the upcoming centennial events will give everyone a chance to think about the university in terms of where we come from, who we are and what the future holds for UTEP.
"The centennial is like UTEP's birthday party. We're throwing a huge birthday party and we are happy to have support from our friends," Erekson said. "We are extremely thankful for this wonderful gift from GECU, and these works of art are a great way to engage the community and create artwork celebrating the centennial."
According to Crystal Long, President and Chief Executive Officer of GECU, it was wonderful working with UTEP and being a part of the centennial.
"It's always a pleasure collaborating with UTEP and they've been nothing but great support," Long said. "It's great that these works of art will also help raise funds for scholarships. It is very exciting and I look forward to seeing how many students will benefit."
To apply for the R.C. Morgan Scholarship, complete a general UTEP scholarship application on utep.edu. More information regarding sculpture locations will be available on mygecu.org.
Lesly Limon may be reached at [email protected]