'Call of Duty: Ghosts' DLC Onslaught features four new maps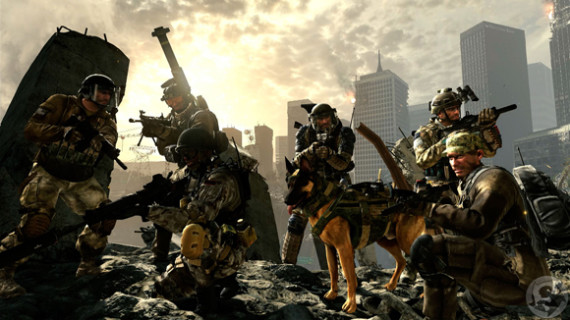 In "Ghosts," the latest "Call of Duty" installment, players can fire through the battlefield, underwater and space.
The game featured updated graphics, new weapons, larger maps and survival mode extinction.
"I appreciate that the graphics are more realistic," said Deborah Cobos-Smith, sophomore electrical engineering major. "The story is different from all the others. I like it because you have different weapons for each and can play online with them, so that's neat."
The game takes place 10 years after a major event in history. A group known as the Federalists takes control of the Orbital Defense Initiative (ODIN), a space weapon of mass destruction that will destroy the major cities in the United States. As the game begins, players are tossed immediately into the thick of the conflict in space along with Logan Walker and the elite Special Forces group called Ghosts.
However, "Call of Duty: Ghosts" has one more surprise.
A classified location, known only to its residents, called Foggy Woods has an eerie campsite near a fog-shrouded lake. The map of this area, called Fog, is the first of five featured in the downloadable content for the popular game. Fog is meant to portray the horror film, "Halloween." When gamers complete a field order on the map, they become the infamous Michael Myers. Moreover, as players approach enemies they will start to hear the chilling "Halloween" theme song.
"That is what actually got me excited to try out the DLC," said Randy Varela senior mechanical engineering major. "Hopefully, COD can do something interesting with this idea."
The DLC Onslaught for "Call of Duty: Ghosts" was released on Jan. 27 and can be purchased for $15. Onslaught contains four new maps, along with a new super weapon, the Maverick. The Maverick is a two-in-one assault rifle and a sniper rifle. The four maps featured are Fog, Bayview, Containment and Ignition, all with various sized maps and different ways to destroy the enemy.
Some students are eager to get their hands on this new release, while others are skeptical about whether or not they believe Onslaught is worth their time and money.
"I think it'll be the same as all the previous versions," said Luis Medina, senior electrical engineering major. "Sure it has new components and a few extra maps, but I don't think it's worth the $15."
While the map Fog, which features Michael Myers,will draw many customers into purchasing the DLC, it is entirely the players' experience that will determine whether or not they enjoy the new downloadable content that COD is presenting.
"I hope they have tested it completely, so that way there are no problems with it the first week it comes out," Cobos said. "I have high hopes for this game and it better be good."
Amber Gomez may be reached at the [email protected]