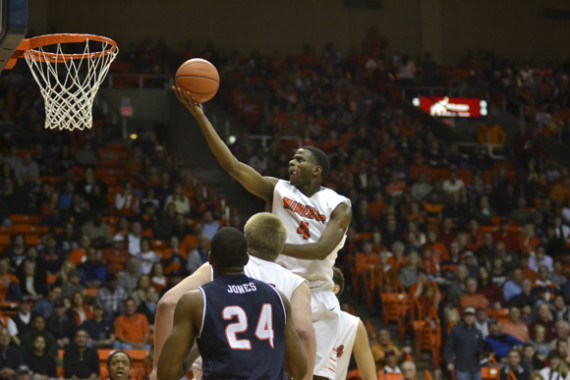 The UTEP men's basketball team won their fourth in a row as they defeated the UTSA Roadrunners 81-62.
Head coach Tim Floyd his 400th victory as a college basketball coach.
The Miners had four players in double figures junior forward Julian Washburn (19), junior forward Vince Hunter (15), junior guard C.J. Cooper (15), and junior forward Cedrick Lang (12).
Coach Floyd and the Miners, since the season started, wanted to make defense their identity.
UTSA came into the game with junior guard Keon Lewis averaging 14.3 points per game and senior guard Devon Agusi averaging 12.2 points per game. Neither player had field goal in the first half.
"Julian Washburn did an unbelievable job out front on Agusi. This is the third consecutive game where he's guarded a point guard at 6'8'," Floyd said. "He's initiating for us out front."
Washburn has been playing some of his best basketball in his career here at UTEP. His defense is a key component to the success of UTEP. He finished the game with 19 points and three assists in 25 minutes of action.
"I just like to heat people while they come up the court," Washburn said. "I'm glad coach is letting me guard the point guards. I'm happy shots are falling and my teammates are doing a great job of finding me open."
Washburn went six of seven from the field and made all three of three pointers and all four free throws.
The Miners have been thriving off of a sense of unity that has forced them to come together and are "moving as one" according to senior forward John Bohannon.
"We're passing the ball and looking for the open man and playing defense." Bohannon said. He played 22 minutes and put in eight points with three rebounds and three assists.
With the lack of true ball-handlers, C.J. Cooper was going to get a majority of the game with him being the point guard.
"C.J. appears to be out of his funk and playing well in terms of his decision making," Floyd said. "He's stepping in with confidence and shooting the ball like we know he can shoot it."
The Miners only had 10 turnovers, which was a great stat to see for Floyd.
The Miners are playing a team defense that has them second in Conference USA in points allowed and first in defensive field goal percentage.
The Miners are now 14-6 and (4-1 in Conference USA). They have won nine of their last 10 to go along with playing their best basketball of the season in the most crucial period.
Luis Barrio may be reached at [email protected].