Voter registration deadline approaches, city prepares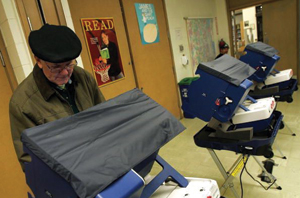 The deadline for students to register to vote in the upcoming primaries, which will include the highest positions in the state, is Sunday, Feb. 2.
On the ballot will be a senator, governor, a plethora of commissioners and a number of legal and civil positions.
"We anticipate this being a high-participation election," said Javier Chacon, El Paso County elections administrator.  "The two biggest elections are always the president and the governor's."
Chacon reiterated that anyone planning to vote in the primaries must have their registration completed and postmarked at least 30 days in advance.
Sunday, Feb. 2, will be the last day to mail in a voter registration card.  Individuals may also complete the form online.
As of last year, Texas elections also require an acceptable form of ID.  Documents accepted include driver's license or state-issued identification card, election identification certificates, passports and military ID cards.
"This is my first time, so I'm kind of excited," said Leslie Palacios, freshman biology major.  "I want to participate and be involved."
Miners will have the added convenience of voting on campus with a mobile site coming to UTEP.  The booths will be available for casting ballots from 8 a.m. to 5 p.m., Wednesday, Feb. 19 on the first floor of Union East .
According to the elections' website, college students may "register to vote in the county where their college or university is located or in the county they previously resided."
Early voting begins Tuesday, Feb. 18 and runs through Friday, Feb. 28.
Normal primary voting will take place on March 4.
For more information about polling locations, ballots or voting eligibility, visit www.epcountyvotes.com.
S. David Ramirez may be reached at [email protected]