Willms aims for new heights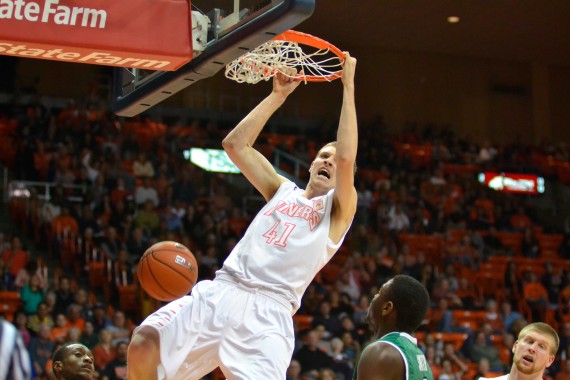 You might not catch him on the court all the time, but it is hard to walk on campus and not notice a 7-foot Canadian on your way to class. Freshman Matt Willms stands 7 feet, 1 inch and when he is on the court he definitely plays like it.
This particular year, the Miners front court is pretty full with seniors John Bohannon, Cedrick Lang and freshman sensation Vince Hunter. Playing time never comes easy for Willms and competing for playing time is a Tim Floyd must.
"Coach Floyd always expects competition," said senior forward Lang. "There is definitely a competitiveness with me, John and Matt. Coach encourages it and it is something we try to bring."
Being in a competitive environment and working hard for playing time is not foreign to Willms. After attending Consortium High School in Detroit, Willms transferred to the prestigious Findlay Prep in Las Vegas, where he played with Anthony Bennett, Dominic Artis and many other talented players.
Unsurprisingly, his time at Findlay Prep convinced him that he was good enough to play Division I basketball.
"I realized when I went to Findlay Prep, I was good enough to play at the next level," Willms said. "You go up against really good players all the time, so it brings the best out of you."
Since arriving at UTEP, things have not been easy. Willms redshirted all of the 2012-13 season due to a shoulder injury that required surgery. Still to this day, Willms is still finding ways to improve with his right arm.
"It's still tough, I think my right needs some improvement. I still cannot even use it in the weight room, so I'm still trying to get it stronger on a day-to-day basis," Willms said.
Willms might not always get a good amount of playing time, but when he is on the court it is obvious that he always anxious to play. Right off the bat, he showed his excitement to play in the Orange and White scrimmage, scoring 21 points.
"I tried to put it all out there," Willms said. "I've been sitting out for a year and that is a long time. I do not want to sit out again."
Cedrick Lang said he has been in a similar situation and could see the same mistakes that he made as a freshman.
"If he had to improve on anything I would say he needs to get a little tougher," Lang said. "In college you have to get used to being hit every time you come down the floor. I remember being a freshman and doing things I was not supposed to do, missing shots I should have made, but as time goes on he will learn."
Floyd knows that Willms might not always get significant minutes, but with his competitiveness, Willms can become a great player.
"Matt has the tools to become a really good player at some point. He can really run, he has great hands and a great touch," Floyd said. "As he gets stronger, his impact on the game could become significant. He has only been playing organized basketball for the past couple years, but he has the tools to excel at UTEP."
Lang said Willms' height is a big advantage for the front court.
"Well he is really tall he has great length so that becomes an advantage for us," Lang said. "Plus he can run the floor really well, block shots."
Like any good Miner, at the end of the day Willms wants to see his team improve and puts winning as his first priority.
"I just want to win," Willms said. "Hopefully we improve and compete for a conference championship—at the end of the day, I just want our team to be successful."
Javier Cortez may be reached at [email protected]
About the Contributor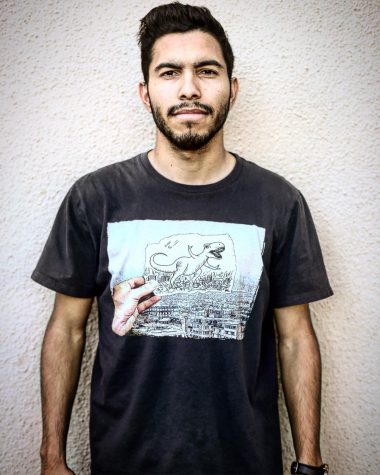 Javier Cortez, Staff Reporter
Javier Cortez is a staff reporter for The Prospector. He is a senior multimedia journalism major, with a minor in English Rhetoric.

Javier was born...