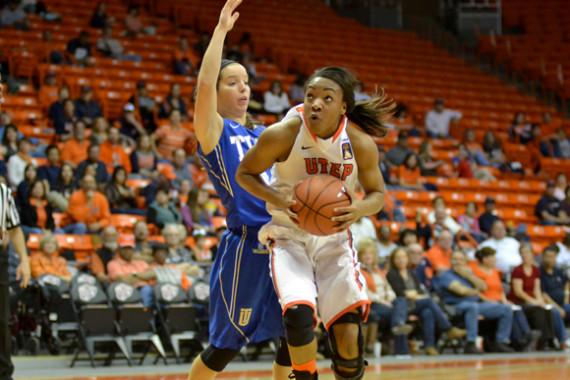 Four different Miners had double digits as the UTEP women's basketball team cruised past the Tulsa Golden Hurricane 97-66 at the Don Haskins Center.
The big story was not the romping UTEP put on Tulsa, but the 22 points and record tying 20 rebounds in 28 minutes of play by senior forward Kayla Thornton.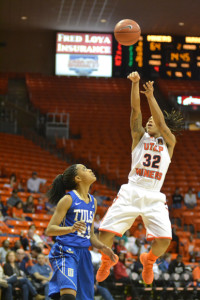 "It's just about me going there and working hard doing what I'm supposed to be doing on the court for my team," Thornton said. "I can always improve."
Sophomore guard Jenzel Nash says she may have played her best game yet as a Miner. She hustled and bustled to a game high 24 points and added seven rebounds to go with four assists.
"I'm a very offensive player," Nash said. "Once it gets going it's a good thing."
Head coach Keitha Adams felt the team did what they were supposed to do and praise the great performance by Nash.
"She played extremely well. I thought her second efforts were really good today," Adams said. "She would get an offensive rebound and put it back. I thought her energy was really good."
As a team the Miners had 20 assists and got everyone involved in the scoring.
"I thought we moved the ball around well. We're shooting the ball better," Adams said.
The Miners made half of their shots from three and shot 46.8 percent from the field as a total.
Tulsa was able to reasonably kept themselves in the game in the first half due to some good shooting. They shot nearly 50 percent from the field in the first half.
"They're good shooters. They move the ball and play really well together." Adams said. "They're a young team and they play really well together."
The Miners dominated in every statistical category. They were too much athleticism and energy for the Golden Hurricanes to handle. In total the Miners had four players in double figures Thornton (22), Nash (24), senior center Kristine Vitola (15) and Kelli Willingham (17).
The Miners improve to a 13-2 overall record and 2-0 in conference play. They now prepare for conference favorites, Middle Tennessee in Murfreesboro, Tenn., on Jan. 15.
Luis Barrio may be reached at [email protected].