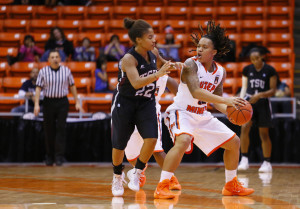 For a while it wasn't the way they drew it up, but in the end the Miners and their full-court trap proved to be too much to handle for the Texas Southern Tigers.
The Miners now 11-1 surged in the second half to defeat the Tigers 81-54.
"We were extremely sloppy today. We turned the ball over way too much; unforced turnovers and carelessness. It's not how I like us to play," said head coach Keitha Adams. "The reason we won was the half-court trap. They didn't handle it well. All in all, in other facets of the game I didn't think we were very good."
In the midst of the win, senior forward Kayla Thornton moved into second all-time in women's program history for rebounds. She now stands at 795 all-time rebounds and is 15 shy of the record. She had five rebounds today to go along with a game high 23 points.
Overall, there were four Miners in double figures. Thornton, senior center Kristene Vitola (12), junior guard Chrishauna Parker (12) and sophomore guard Irene Gari (10).
The first half of the game saw the guards of Texas Southern penetrate and nock down threes. The transition defense of the Miners resulted in a closer match than expected.
During the second half, the Miners initiated their full-court trap. Just under the 15 minute mark is when the Miners started a 28-10 run and forced eight turnovers in the next eight minutes.
This barrage of turnovers propelled the Miners to a 79-51 lead and relinquished all hope of a comeback.
"We didn't value the ball like we should have," Thornton said. "It was a lot of stupid little things that we didn't do."
Between Vitola and Thornton, they shared seven of the teams nine blocks and headed this full-court trap. If Texas Southern broke the press, Vitola was there.
"Coach (Adams) saw that the press was something that they struggled with and I think that really pumped us up," Vitola said. "We got a lot of steals and easy baskets and that's basically why we won the game."
The notable stat that the players explained is the reason for the victory was their trap. The Miners piled up 30 points off the Texas Southern turnovers.
The Miners will get back to practice tomorrow and prepare to go on the road for their last non conference game of the year when they take on the 2011 NCAA national champions the Texas A&M Aggies on Thursday.
Luis Barrio may be reached at [email protected].