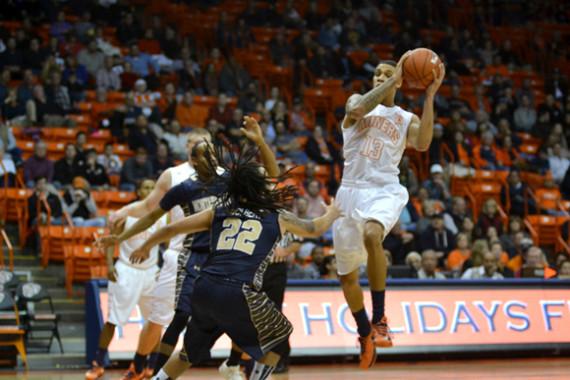 The Miners won their third straight game Monday night by defeating the Montana State Wildcats 70-55.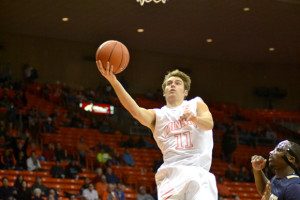 Once again, the Miners did it with defense and holding their opponent to a low shooting percentage, 34.5 percent.
Junior guard/forward Julian Washburn led the team in scoring with 20 points. Head coach Tim Floyd thinks he's been playing his best basketball this season so far.
"These last three games he seems to have been settled in offensively. He's been playing with a lot of confidence," Floyd said.
The Miners as a team allowed zero second chance points in the first half. They forced shot clock violations.
"We've been playing great on the defensive end and we've got to keep it up," Washburn said.
Junior guard C.J. Cooper made a three-pointer just before the half to propel UTEP's lead to 17.
Floyd commented on the notion that senior forward John Bohannon has been playing really smart offensively by not trying to do too much. Tonight Bohannon had a well-balanced attack with five points, seven rebounds and six assists.  As a post player, he leads the team in assists.
The only double-double to come out of the game was from junior forward Cedric Lang who cashed in on 10 points and 13 rebounds in 20 minutes of action.
Lang led both teams in rebounds and did little things that don't show up in the box score like running the court and putting himself in position for easy put-back.
"We've got some momentum going which is always a good, every team needs it," Lang said. "The ball is moving, were defensive boarding and swinging the ball around and good things happen when we do that. I believe that's why were winning and we need to keep it up."
The Miners now 8-5 will face Western Illinois and Denver in the 2013 Sun Bowl Invitational this weekend to close the year.
"We look forward to this tournament every year on our home-floor in front of our fans," said Lang. "We really want to win this one."
Luis Barrio may be reached at [email protected].