Water pipe line break update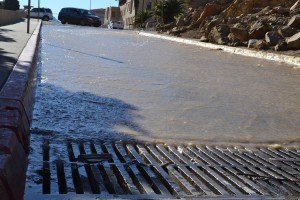 A pipe line that burst on Dec. 17 just before 2 p.m. in front of Old Main has been repaired. Water rushed from Old Main and around the Psychology Building and down Kirby Avenue until in reached the end of the street, where a water grate spanning the street stopped the flooding from reaching anywhere else.
" While we do try our best to avoid scenarios like this, It's common enough to have procedures ready to deal with it," said Greg McNicol, associate vice president of business affairs.
He also said that when the 12-inch-diameter pipe was broken, a spare was ready to take its place. Repair work started almost immediately after the water was turned off and was fully taken care by 7 p.m. that same night.
According to McNicol, the pipe wasn't hit by any machinery, but burst because of pressure from the surface. Over time, the pipe had become brittle and with constant construction above ground, the pipe burst.
The call was made to campus police at 2 p.m. and by 2:20 p.m. the water was turned off. El Paso Water Utilities, the owners of the pipe, were informed and also arrived promptly to assess the damage done. It was concluded that seven buildings in total were affected including the Fox Fine Arts Center, which was showing "A Christmas Carol" that night. With a fast response, the show continued and the damage to other buildings were similar–a little dirt and some water to clean up.  Faculty, staff and students still at UTEP before the winter break shouldn't have any trouble continuing their day-to-day work.
Jaime Quesada may be reached at [email protected].