Art studio captures artists' attention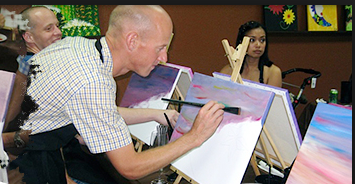 Ashley Muñoz, Contributor
December 17, 2013
Art can be defined in many ways in the eyes of the beholder–but what if you are not an artist? Painting, drawing and sculpting each have their own unique way of capturing people's attention, and now students, families and other curious entrepreneurs can experience the joy of painting and creating art.
Opened October 2012, I Painted That! is a social art studio, where local artists lead novices step by step to paint their own work of art. The studio is located on 5200 N. Mesa St. and has already captured students' attention.
"You can bring your friends and family with no experience required and everything else is provided," said Sarah Almquist, owner of I Painted That! "Our work environment is very relaxed, which is why people are welcomed to bring their favorite beverage and snacks–– and we are witnesses on how their artistic side emerges,"
These classes are intended to be fun and have a very relaxed environment, unlike serious painting lessons. Wine, milk and even patrons' favorite cocktail is allowed as they release their inner artist. Kids classes are also offered, and I Painted That! also hosts private parties, girls' night out and many more themes that would-be artists can join.
"Our guests can enjoy fun, even for someone who has never picked up a paint brush," Almquist said. "They can come and have fun painting while enjoying wine and some good company."
Briana Martinez, studio art major, said that although she hadn't heard of this studio, she is more than interested to give it a try and attend one of their workshops.
Martinez said that this would be a great idea to have at UTEP since it would give art students the chance to be more social with other artists.
"It gives us a chance to meet new people and experience something like we have never seen before," Martinez said. "It would bring older artists and younger artists together if an event like that would be promoted here at the university."
According to Almquist, I Painted That! offers different styles and themes of paintings from which artists can choose from.
"Even El Paso themes that some have painted in the past." Almquist said. " It's simple-our motto is We Paint, We Drink and We Socialize."
I Painted That! is a place where artists, whether professional or not, can take a sip of their favorite dark red wine and unleash their inner Picasso inside.
"As a studio art major student, it gives us a chance to explore our imagination and feel like true artists," Janeth Martinez said.
With a special event like this, I Painted That! can bring the same enthusiasm to the UTEP campus, offering these same workshops offsite, Almquist said.
"We love the our studio's concept and we hope to continue to attract artists of all ages. Painting can be a whole lot of fun," Almquist said.
For more information visit iPaintedThat.com.
Ashley Muñoz may be reached at the [email protected]