New Orleans stuns UTEP with its first road win in two years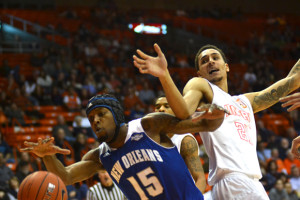 The UTEP Miners, who came in tonight with a 5-4 record, were stunned by the New Orleans Privateers at the Don Haskins Center, 71-69.
Junior forward Cedric Lang missed a put-back layup to send the game into overtime, after Jalen Ragland missed a potential game-winning 3-point shot.
The Miners, now 5-5, will play five games in the next 12 days.
"It's a frustrating loss. We played against a team that played very spirited. They shot it really well and played better than we did," said head coach Tim Floyd. "I thought our screen and roll coverage was very poor. I give them (New Orleans) a lot of credit."
The Privateers showed a lot of enthusiasm on the court and shot the ball well in their visit to El Paso. The Privateers had four players in double figures and the team shot 50 percent from the field and 40 percent from the 3.
Although the Miners shot 57 percent in the first half, they only controlled the lead by two points.  This was a point made by Floyd and he did not find encouraging.
"We really didn't play any defense at all," said junior guard/forward Julian Washburn. "We shot 57 percent in the first half and only lead by two. That's the main reason why we lost, just lacked defense."
The turning point was mid-point in the game, when the Privateers went on an 11-0 run. The Miners were down five points with fewer than five minutes remaining and they made a final charge to try and win the game, but the effort wasn't enough.
One of the few good points for the Miners in this loss was Ragland, who scored 19 points and shot 60 percent from the field.  It was his best game of the season, efficiency-wise.
The Miners will next host Northwestern State, who was the highest scoring offense in the nation last season on Thursday, on Dec. 19 before traveling to play its last road game of the year on Dec. 21 against Washington State.
Luis Barrio may be reached at the [email protected]