Seniors ready to continue life after football
"It hurts to see them leave...you create a great bond with them–become great friends." - Jordan Leslie, junior wide receiver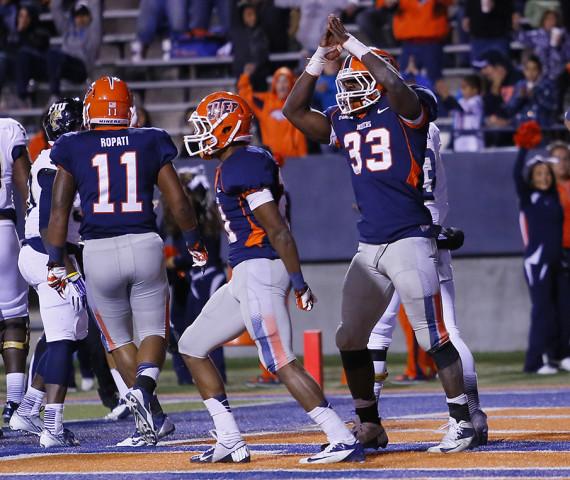 When you walk around campus and see the towering athletes in sweats you might forget that they're also students.
The football team has more student-athletes than any other sport at UTEP and most of the seniors on this year's football team will be suiting up in something other than football once they graduate.
For the seniors, finishing at the bottom of their division wasn't the plan, but they're leaving having made a long-lasting impression on the rest of the team.
"When you play football, you create a bond with somebody," said junior wide receiver Jordan Leslie. "It hurts to see them leave. Everyone on the offense, and even players on defense like Horace (Miller), (Marcus) Bagley, (Germard) Reed, you create a great bond with them–become great friends."
The now starting quarterback for the Miners, freshman Mack Leftwich, said that he has learned a lot from them.
"I have respect for most of the seniors," Leftwich said. "I'm friends with a lot of them and I hang out with a lot of them."
Whereas the majority of the seniors will go on to other ventures in life, linebacker Horace Miller sees a future in football for himself, as he is set to graduate in December with a bachelor's degree in multidisciplinary studies.
"At the end of the day, though my plan is to talk to (head) coach (Sean) Kugler, coach (Andre) Patterson and pursue football," Miller said. "They've been upfront and honest with me and those are the coaches that I take the most of what they say. They believe I have a bright future and I believe I have a bright future."
When asked where he could see himself in five years, Miller wasn't hesitant in stating football.
"In five years, I'll still be playing football(in the NFL)," Miller said. "Definitely, I plan on having a great career. At the end of the day, I just want to be successful no matter what it is."
According to Kugler, Miller is one of the players who may find success in the NFL, but knows he will have to work for it.
"The future is never guaranteed to you," Kugler said. "Horace will get an opportunity and I hope he does the best."
Already graduated with a degree in multidisciplinary studies, Craig Wenrick will also graduate in the summer with a second degree in criminal justice.
Prior to that, Wenrick has had multiple selections to the Conference USA Commissioners Honor Roll. He said that he doesn't know what the future holds for him.
Linebacker A.J. Ropati is set to graduate in May with a degree in multidisciplinary studies, is looking to head back home as he finishes his career at UTEP.
"I'll probably be living in my hometown in Carson, California," Ropati said. "Or in Las Vegas going through the fire department academy or police academy. We'll see what happens."
As the Miners look back to their final game of the season against Middle Tennessee State last on Nov. 30, a few of the seniors reflected on their favorite memories wearing the orange and blue.
"I think it was the last home game (against FIU)–Senior Night a couple weeks ago–it was a great feeling to win our last home game," Ropati said. "It's one of the most memorable moments in my UTEP career."
However, Miller feels that the best game he was part of for the Miners was the game against the then fourth-ranked Oklahoma Sooners in the 2012 opener, in which the Miners fell 24-7.
"I would say the energy that we brought defensively against Oklahoma–the energy and intensity was outstanding," Miller said. "In meetings before that game, we heard they (Oklahoma) were talking about how they would beat us 66-3 or 60-10 and we just took that and ran with it. That game was just phenomenal, I have never seen anything like that."
Win or lose, the senior class has made a long-lasting impression on their fans, coaches, teammates, family and the university as a whole. While only a handful may get an opportunity to play at the next level, they feel fortunate to have experienced what it is like to have played college football.
Javier Cortez may be reached at [email protected]
About the Contributor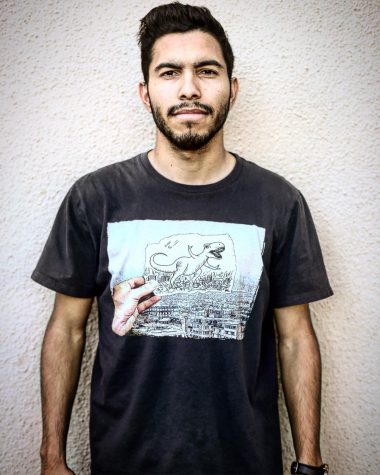 Javier Cortez, Staff Reporter
Javier Cortez is a staff reporter for The Prospector. He is a senior multimedia journalism major, with a minor in English Rhetoric.

Javier was born...