"A Christmas Carol" embraces its supernatural elements this year
"I feel the show relates to UTEP and the community by touching on the theme of hope" – Austin Savage, UTEP alumn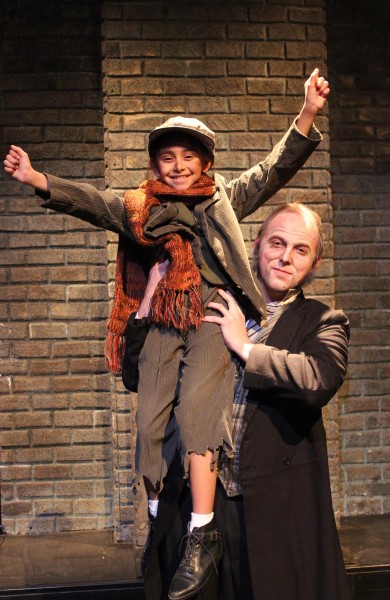 The UTEP Department of Theatre and Dance brings their annual production of 'A Christmas Carol' to the stage. Faculty and students have rehearsed countless of hours to ensure it will be an unforgettable performance. The opening night will be on Dec. 15.
This year's presentation of the stage adaptation of the inspiring 19th-century story marks its eighth year of production.  Based on Charles Dickens' classic novel, ''A Christmas Carol'' is a timeless classic that revolves around the angry and bitter Scrooge, who has a change of heart after receiving some ghostly visits from Jacob Marley, the Ghosts of Christmas past, the present and the future yet to come.
The story is a Christmas staple and conveys the message that everyone can feel the spirit of the holidays, even those with the coldest of hearts.
Austin Savage, a UTEP alum and founder of Border Theatre, has been the director for 'A Christmas Carol' for the past three productions. He said that this year's production differs from the previous years of performance, as they are attempting to show some interesting aspects regarding the presentation of the supernatural elements within the show.
"The ghosts and even Jacob Marley are all part of a very unique spectacle that should impress the adults while captivating the children," Savage said. "UTEP's 'A Christmas Carol' is an annual production, so over the years it has been refined and improved upon by a variety of directors which leads to a very impressive show."
Adriana Dominguez, director of audience development, said the production has become a UTEP tradition.
"We find it is a great way to reach out to the community and participate in the holiday spirit," Dominguez said.  "As it is a well-established and very large show, it provides our students a wonderful opportunity to be onstage and do design work."
Regarding the audience this year, Dominguez said that the department is very lucky that the attendance has been maintained throughout the many years of their presentation of "A Christmas Carol."
"We have found that several families now make 'A Christmas Carol' a part of their holiday tradition—they join us every year to kick off Christmas," Dominguez said. "Along with the public performances, we have five school performances, where more than 1,500 local school children come to the theater during the week for the show as a part of a field trip. It is an amazing experience for all involved to see the awe and wonder in a child's eye when experiencing live theater through this magical tale."
Being cast in 'A Christmas Carol,' for the third year in a row, Richard Nielsen, senior theatre arts major takes center stage as he plays the lead role of Scrooge this year. He previously portrayed Fezziwig his first year and the Ghost of Christmas present in his second year.
"I am the face of the show on my third consecutive year participating in this beloved play," Nielsen said.  "With Scrooge, I've been studying a lot of different things to help find my place in the character. My personal favorite is to people watch, especially people with different physicality and try to incorporate it into my performance.
Another strategy that Nielsen uses to better understand his character was to watch  other versions of Scrooge. However, he realized this wouldn't work and strived to work on finding his own self in the character.
"That way, the person the audience sees on stage isn't just a character, it's me," Nielsen said.
Allowing for the production to be open for student input, Savage said that this annual production provides an opportunity for student designers and actors to work on their craft and he couldn't be happier with this year's group of hard workers.
"The imagination and creativity of the designers has been stunning to me. (Theatre art students) Luis Torres (costume designer), Gil Arias (sound), Trent Ware (lights), Diana Davila and Marissa Diaz (projections) have just blown me away in these early stages," Savage said.  "As for the actors, some of the more experienced students are challenging themselves by expanding their acting range.  The younger students are showing tremendous enthusiasm and passion.  I couldn't be happier with their contributions."
In his second year of working on the play, Torres said that "A Christmas Carol" has become a UTEP tradition, and is also becoming part of the Christmas holiday tradition for the community.
"It's quite unique. It's like a play-in-a-box—the skeleton of the play is already there, so that different actors, designers and technicians can bring their own take each year," Torres said. "It's a Christmas classic that the whole family can enjoy to go see. It's a wonderful opportunity for everyone."
This year's cast also includes Elizabeth Gomez, freshman pre-speech and language pathology major as Tiny Tim and Miriam Mendoza, sophomore theater arts major as Belle.
"I feel the show relates to UTEP and the community by touching on the theme of hope. All is possible when people work together and even the worst of us are part of the community," Savage said.  "And that is entirely what the holiday season is all about—hope—and hopefully you'll be one of many to enjoy 'A Christmas Carol' this year."
Nielsen shares the same enthusiasm and hopes the El Paso community enjoys this year's production.
"I feel the El Paso community will thoroughly enjoy this year's production because as old as the story itself is, there are still so many things we are still discovering about it today" he said. "This season especially, we are really flushing out the pain and suffering Scrooge goes through so that his redemption to the audience seems that much more deserved."
The show will debut at the Wise Family Theatre, located on the second floor of the Fox Fine Arts Center on Dec. 15 with shows at 2:30 p.m. and  7 p.m. and on Dec. 19-20 at 7 p.m.
Jose Soto may be reached at [email protected]
About the Contributors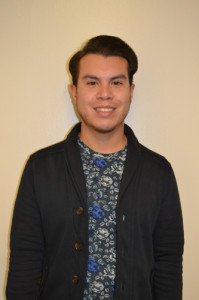 Jose Soto, Staff Reporter
Jose Soto is a multimedia journalism major with a minor in creative writing. He joined The Prospector team in November of 2013 as an entertainment reporter....