Senior forward Kayla Thornton led the UTEP women's basketball team with 17 points and nine rebounds to take down the Texas State Bobcats 73-60.
UTEP led by 18 at the half, but the Bobcats who came into the game riding a four-game losing streak, were able to keep up with the Miners during the second half and trimmed the lead to 13, the smallest margin of victory for the Miners, so far this season.
The Miners all season have turned up the defensive intensity in the second half, which is the reason for their 31.8 point average margin of victory.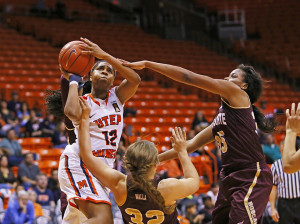 Despite the win head coach Keitha Adams was not pleased on how the team finished the game.
"I thought we did some positive things throughout the game, I thought our intensity level dropped when they made that run in the last six minutes. It's good to get a good win," Adams said.
When the Bobcats narrowed the margin to 12 points, Adams was forced to check back in senior forward Kayla Thornton, senior center Kristine Vitola and junior guard Chrishauna Parker to close out the game.
"Both halves our defense was not good enough," Parker said. "We let them get back and score layups, our intensity wasn't up and that's why they did what they did."
Parker led the team with 11 rebounds, she also contributed five points and five assists to her credit.
"C.P. (Parker) did a good job rebounding tonight, were always pleased when she rebounds the ball well for us," Adams said. "We have to continue to get better as a team."
There were 55 fouls called in the game and the Bobcats did well from three point range shooting 71.4%. The Miners only made two of 11.
The Miners now 6-0 will go on the road for the first time this season when they visit rival New Mexico State on Dec. 3.
"It'll be a good road test for us," Adams said. "We'll have to be ready to play for 40 minutes."
Luis Barrio may be reached at [email protected].