Despite trailing Northern Colorado 24-21 and being outrebounded by the Bears 31-10 at the half, the Miners used a big second half to defeat the Bears 63-40.
The last time the Miners trailed at halftime was March 14 last season in the Conference USA Tournament quarterfinals against UAB.
Coming out of the half, the Miners came out and scored 42 points, while holding the Bears to only 16.
The Miners forced traps on the Bears and made them turn the ball over 30 times and scored 36 points off those turnovers.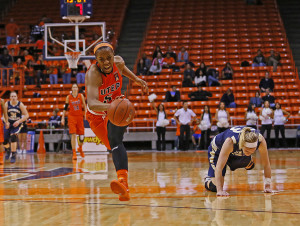 In spite of the second half surge, head coach Keitha Adams used words like "lethargic" and "sleep-walking" to depict the picture that she saw from her squad halfway through the game.
"Its like we were half asleep tonight. We weren't very good tonight," Adams said. "They kicked our tails on the boards. We were sleepwalking. The only way we will get that corrected is by having a good practice tomorrow."
Senior forward Kayla Thornton led the team with 21 points in the game and added five rebounds. Her anticipation on defense led to six steals and easy layups at the other end.
Despite the win Thornton didn't liked the team's performance in the first half.
"It was everybody putting in a low effort, we can't really blame anyone and we can't criticize just one of us, because it was each of us that was not doing our part," Thornton said. "We told each other that we just needed to go back and get it done."
In the second half, sophomore guard/forward Irene Gari came off the bench and contributed 14 of the team's 27 bench points.
After the game she was displeased with the team's overall performance.
"At the half, we definitely needed to pick it up. We came out better in the second half but we did not play well," Gari said.
In her best game scoring wise, Gari said that she still needs to work on a lot of things as well as the team overall, still the team was happy to win.
Thornton said that the team will pay for the poor rebounding performance tonight in the next couple of practices.
UTEP moves to 5-0 in the season and will host Texas State at the Don Haskins this Saturday.
Luis Barrio may be reached at [email protected].