Fresh grass-fed beef burgers made from scratch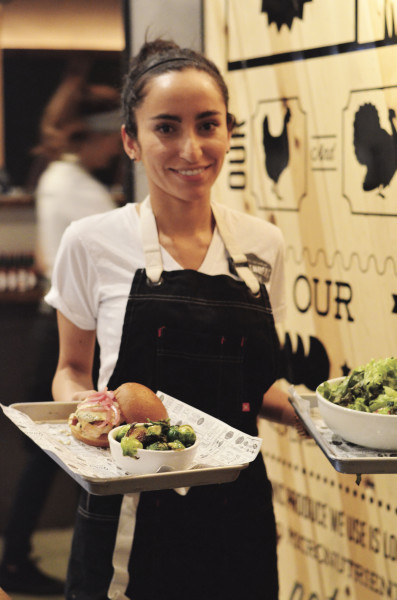 Marcus Seegers, Multimedia Editor
November 26, 2013
The restaurant owners who brought El Paso Crave Kitchen & Bar have opened a new restaurant called Independent Burger & Bar, located within the retail section of the Venue at Montecillo.
The interior is nicely finished with wood and has a full bar that runs along the center of the room. The restaurant also has a selection of tables you can choose from. If you are in the mood for some fresh air, you can sit outside on the massive wooden patio, complete with a ping-pong table.
Independent Burger also serve salads, a variety of appetizers and desserts such as milkshakes and ice cream sandwiches. The ice cream used is homemade, running at $5. It is slightly creamier than some traditional milkshakes.
The atmosphere was very relaxed, slightly more formal than Crave, and the noise level is average where conversations could easily be carried on.
The meat in their burgers is very tender and juicy with the perfect blend of seasoning, accompanied by crispy fries. The crunch and additional flavor of the bacon really gave it a good overall blend. The burger called the Fancy Pants, which included mushrooms, carefully placed on top and crispy onion rings on the side, tasted superb and came out a little sweet because of the mushrooms.
Independent Burger strives to provide fresh and flavorful ingredients. Serving grass-fed beef and hamburger buns that are made fresh daily. The produce is bought locally and they cook everything in rice bran oil—which is supposed to be a healthier choice. On top of all this, they have a special soda machine where customers may pick their favorite flavor to combine with carbonated water.
Overall, Independent Burger is very good, however, the only downside is the price, but the food is of higher quality.
You get what you pay for at Independent Burger, with good-sized portions and delicious food. The service was speedy and all the servers were friendly and respectful. I would recommend it to anyone who enjoys eating a good burger in a pleasant atmosphere. Happy eating.
Marcus Seegers may be reached at [email protected]