Battle of the Holidays: Black Friday vs. Thanksgiving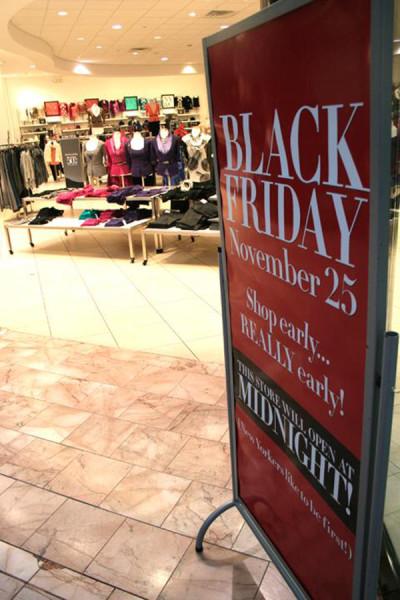 It's that time of year again—the weather is getting colder, holiday decorations are being hung, but some holiday celebrating may be overshadowed by Black Friday.
As the kick-off to holiday shopping is only days away, many shoppers are ready to fill their shopping carts and race to the end of the savings madness. To some, this is a great way to get great deals and find the perfect stocking stuffers. However, there are others who stand on the other side of the spectrum or who may possibly be caught in the middle.
"I honestly think it depends on how one was raised," said Anaysa Arce, general studies major. "I do find it ridiculous that stores are opening on Thanksgiving Day. I think they shouldn't do that. That takes away from the meaning of the holiday."
Opinions can vary on this topic, but freshman studio art major Gabriella Olivas agrees with Arce about the Black Friday epidemic.
"Family time is important, no one should take away from this holiday, not even retail stores," Olivas said.
Janeth Escajeda, sophomore art major, who will work during Black Friday, said that it gets very hectic.
"I have to work on Thanksgiving; it's hard to work and not spend time with your family. Now that retailers have made the decision to open on Thanksgiving itself, it's going to be more hectic than usual. I mean come on, seriously?"
Black Friday has had a great effect on this generation, and is here to stay, now prompting what is now called Grey Thursday.
"(Black Friday) has transformed into a November tradition. It's like the second thing people think about when it comes to November," said Carol-Anne Yerby, a shopper who attended Black Friday last year andhas seen people go crazy during the shopping chaos. "This new Grey Thursday will definitely take away from Thanksgiving. Instead of being at home with family, some people are going to end up as greedy customers shopping vs. spending time with loved ones."
With its origins in the '60s, Black Friday still has its magic and reels consumers in to the sweet savings offered by retail stores. The average shopper spends around $400, if not more each year. A total of $59 trillion was spent in 2012—a 15 percent increase from 2011—and 23 percent of the shoppers camping outside the stores.
In the race to see who will catch more attention, Black Friday may indeed have the lead. It's safe to say that it's our natural shopping instinct to react to such great deals, and with this new promotion of Grey Thursday, it may be hard to for some to say no.
Ashley Muñoz may be reached at the [email protected]