WASHINGTON – All Phoebe could do was pray.
Phoebe Advincula, at 59, has witnessed more typhoons than she can count. But when Typhoon Haiyan tore through her town with wind gusts of up to 235 mph, she found herself caught in the eye of one of the strongest storms in recorded history.
When Super Typhoon Haiyan smashed through the Philippines on Nov. 8, Advincula and her family escaped to the highest mountaintop in their village, a neighborhood two hours away from the City of Tacloban. The storm destroyed everything in its wake.
"When I was on the mountain I asked God for a second chance in life," she said in a phone interview from Kauswagan, Lanao del Norte, Philippines, where she sought refuge at her sister's home after the storm.
Her family hadn't heard from her in seven days. They were finally reunited on Nov. 14.
"I was so happy to hear they were still alive," said Evangeline Vickers, 58, a cashier in Mandeville, La.
Vickers said she "cried so hard," because she thought her first cousin was dead.
From her mountaintop perch, Advincula said she saw waves moving inland at an unprecedented rate. They smashed through homes and swallowed the neighborhood whole. Many people in her village evacuated with only the clothes on their backs.
Avincula said they were trapped with no food or water. Their sole source of food came from the coconuts that grew in their village.
When Advincula went to go check on the home she had lived in for 24 years, she found it completely demolished.
"The whole ground was covered with fish," she said.
Even though Advincula lost everything, she knows she is lucky.
"Even though we have no house, I still have my family," she said.
Advincula said she plans to go back to her village and help. Even though she doesn't have much left, she said many people in her neighborhood are starving and are in need of food.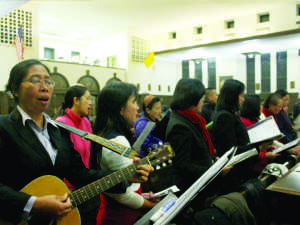 According to a Nov. 15 report from the Republic of the Philippines National Disaster Reduction and Management   Council, more than 3,500 people were reported dead, about 12,500 are injured     and close to 1,200 people are still missing. Those numbers continue to rise, one week after the storm. Approximately 9.1 million     were ultimately affected by the typhoon.
Jose L. Cuisia Jr., ambassador from the Republic of the Philippines to the U.S., said   at a Wednesday evening prayer service   at St. Thomas Apostle Church that he came to pray for the people who have lost everything in the storm and for, "God to give them the courage to move forward with their lives despite setbacks."
The church was raising money for people who were affected by the super storm.
A spokesperson for the ambassador later said that everyone should learn lessons from Typhoon Haiyan, not just the Filipinos.
"We have to do more in terms of preparations as experts have predicted that the world will see more storms similar to Haiyan in the future," he said.
Rev. Richard A. Mullins of St. Thomas Apostle Church said that 10 percent of his congregation is Filipino, but they make up most of his charitable volunteers.
"They're people of great resilience and they have listed war, occupation, internal political strife, vast poverty, other natural disasters," he said. "Yet they've risen above it, and I just hope that they have one more little bit of resilience in them to overcome this devastation."
Many nations have come together to pour financial aid into the Philippines.
Bing Cardenas Branigin of the Asia America Initiative said his organization has already sent $600,000 worth of medicine to the Philipines in conjunction with Direct Relief. On Friday, they plan to send a second shipment of medicine worth about $1.2 million.
Branigin said many Filipinos in Washington were shocked by the photos they've seen in the media and want to help anyway they can.
The size of the contribution is not important, she said. What matters is, "how we as humans come together."
Zarah Farah is a senior journalism major at Texas State University. She is currently participating in the Scripps Howard Foundation Semester in Washington program. She may be reached at [email protected].