WE HAVEN'T FORGOTTEN ABOUT YOU: Three wars, one story
"I think the thing that bothered me most, and maybe the others, is the fact that we lost our close friends" – Robert Chisolm, retired Lieutenant Colonel U.S. Army 1942-71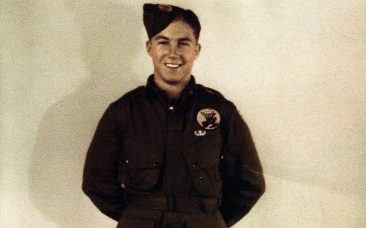 A steak dinner and a carton of Lucky Strikes cigarettes were a treat on June 5, 1944, a day before the D-Day invasion of Normandy, France. Other than the special meal and cigarettes, it seemed like a regular practice jump for the men, who were part of the 508th Parachute Infantry Regiment of the 82nd Airborne Division during World War II.
"You realized that this was the real thing when we started passing over the coast and we started taking anti-aircraft fire," said retired Lt. Col. Robert Chisolm, 88, of Anthony, N.M.
Now hunched and limited in physical movement, he walks in short, stiff steps as he moves around the Benavidez-Patterson All Airborne Chapter headquarters of the 82nd Airborne Division Association, Inc.
Chisolm's young, spirited personality shone through his light-blue eyes. His skin was aged, but soft. His hair was grey and thin. He wore his veteran's hat proudly—it was decorated, embellished with the name of the three wars he served in: World War II, the Korean War and the Vietnam War. Chisolm is one of 325 combat veterans who have earned the triple Combat Infantry Badge for service in three wars.
"We haven't forgotten about you," Chisolm yells at Oscar, a member of the chapter who was sitting inside the rock-walled building, looking weak and ill.
"(Oscar) was in an accident and he's in bad shape," Chisolm said. "The gas company just cut off his gas. He just forgot to pay his bill."
At the age of 17, and fresh out of high school, Chisolm enlisted in the Army on Aug. 27, 1942. Chisolm didn't pay a lot of attention to the preliminaries of World War II—the invasion of Poland and France—until the attack on Pearl Harbor.
"I had two brothers who had gone into the service and I couldn't wait to get in," Chisolm said. "I was giving my family such a hard time that they let me fudge my age and sign the papers and let me enlist. I think they were glad to get rid of me."
By the age of 18, he had dropped into Normandy on D-Day as part of Operation Overlord.
"When the pilot started getting anti-aircraft fire, they immediately proceeded to climb," Chisolm said. "We were supposed to go out at around 800 feet and I think we went out around 3,000 feet, above the clouds. I think that's the reason we were so widely dispersed."
On his 19th birthday, he was on a combat patrol and wounded for the first time by an enemy machine gun. He was released from the hospital just in time to make operation Market Garden. During the operation, he was wounded a second time as he was exiting the aircraft.
"My plane had taken some flack. I'd been hit in the face and body," Chisolm said.
Chisolm was back fighting in the war during the Battle of the Bulge, where he was wounded for a third time from artillery fire. He had a "million-dollar wound," which Chisolm said is a term used for wounds that send troops back to the U.S.
"I was never more miserable in my life than I was during Battle of the Bulge because it was extremely cold," Chisolm said. "We were committed with no winter clothing at all, we didn't have any overshoes."
Chisolm and a few others that survived WWII reenlisted. He believes that people were more deeply touched by WWII than they were in the Korean War or the Vietnam War.
"I think the thing that bothered me most, and maybe the others, is the fact that we lost our close friends," he said. "It was a relationship forged in the heat of battle. It differs greatly from anything that you'd ever experience before. That's a relationship that's probably closer than a blood relationship. It was a terrible loss, something that you'll never forget."
He called the current generation "pretty fabulous," but said troops are going through a lot with current conflicts. He was upset by how many millions of dollars the U.S. government sends to foreign countries that he said "hate us."
"And we can't get a damn wheel chair for an amputee, who lost his limbs in combat defending our country," Chisolm said. "Man, am I hacked off about this. Let's take care of our own first."
Besides combat veterans, Chisolm gave a nod to military wives for their duties while their husband's are deployed. He stood upright and clenched his hands together—fingers entwined—and held them up to his face as he spoke about his wife and daughter, both of whom have passed away.
"There's no greater person in this world than a military wife," he said. "I had a wife and daughter…my wife was taking care of my daughter, showing her a picture of her dad when she was 3 years old. It was a hardship on them."
His daughter, Dawn Chisolm, passed away in March 2012 from cancer, and his wife, Margaret Chisolm passed away in 2009 after a heart attack.
"I'm the last in my line," Chisolm said.
As UTEP and the community honor veterans, Chisolm's story is a stark reminder of their sacrifice.
Kristopher Rivera may be reached at [email protected].