The Counselor: when bad things happen to bad people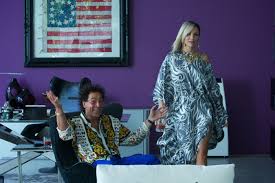 Ridley Scott, director of "Alien" and "Blade Runner," ventures into crime drama territory with "The Counselor," which also happens to be the first theatrical screenplay written by acclaimed author Cormac McCarthy.
The story takes place on the El Paso/Juarez border, a staple of McCarthy's work, where our titular character—the mysterious "counselor," a lawyer played by Michael Fassbender—embarks on a new business venture that could potentially earn him millions if everything goes right, or go horribly awry if it doesn't.  His business deal, though, requires the counselor to work with people on the inside of the drug trade–enter the charismatic Westray (Brad Pitt) and the extravagant Reiner (Javier Bardem, great as always) to ensure that everything goes according to plan. He's also planning-ahead to spend time with Laura (Penelope Cruz), with whom he hopes to spend his future.
As the deal is set in motion, the counselor and his partners engage in deliberately drawn-out sequences of dialogue, where they ponder the nature of evil, life, women and the consequences of their actions. It's great, especially if you're a McCarthy fan, to listen to all of these characters deliver this wonderfully stylized dialogue that just pops right out, but one that feels more at home in a novel than on the screen. "The Counselor" is verbose, and often times distractingly so, since McCarthy also explains out the themes of the film directly in the words of his characters instead of letting the audience see them like in "No Country for Old Men," which allowed us to see how these characters behaved instead of just outright explaining them. It's a story that includes themes of greed, consequences and survival set in a world with characters that are all about success and "moving up" in life.
Scott tells this story of "deals gone awry" with beautifully dark and moody color palettes, and tense and precise direction that perfectly illustrate the incredibly bleak tone that McCarthy is going for—though at times that tone veers into ridiculous territory with some scenes.
Cinematographer Dariusz Wolski, who worked with Scott in "Prometheus," paints the Southwest in visuals that spark a sepia-toned look and cool shades of green, making the desert environment a character as well. He manages to make a beautiful looking film set in this incredibly dark and desolate world.
One of the problems that "The Counselor" has, however, is that given its impressive cast and crew, one would expect an incredible piece of cinema. Instead it falls short of those expectations, especially in the form of a severe miscast with Cameron Diaz's character, Malkina.
Malkina, Reiner's girlfriend, is the story's femme fatale and she's the one who is always in control of everything. Without giving too much away, she enjoys a wealthy lifestyle and preying off of others. In one of her first scenes, we see her and Reiner, with their two cheetahs, admiring the Southwest scenery, as one of the cheetahs chases down a jackrabbit. Obviously, McCarthy is using this cheetah imagery in contrast to Malkina and commenting on her predatory nature—she has cheetah spots tattooed on her back. The point being is that all of this is incredibly bluntly said and explored, plus Diaz's performance is the only one among the top cast that feels hugely out of place.
Not once did I buy her performance, whether it was her strange choice of accent or delivery. It just didn't work and it was a shame, since Bardem and Pitt have a lot of fun with their characters.
Fassbender, in an almost subdued performance, brings the charisma and gravitas, and Penelope Cruz at least shows a sympathetic side that makes us care for Laura. Unfortunately, "The Counselor" wasted a lot of character actors that just appear in the background, most notably Edgar Ramirez, Natalie Dormer, Dean Norris, John Leguizamo and Bruno Ganz.
"The Counselor" is expertly constructed, as one would expect from Ridley Scott, and has some genuinely tense sequences, but it also meanders a lot of the time instead of actually showing us or exploring its ideas. Some of its performances are a lot of fun and its opening credits are actually visually interesting, but it's also relentlessly dark with its grim view of the world. It's bold that McCarthy and Scott went for something this dark, even if it's mercilessly so at times. So, if you're going in for McCarthy's trademark dialogue, some good performances or Scott's direction, then you might like it, but it just ends up falling short of something great—given the tremendous talent involved and some of the storytelling choices in the film.
Oscar Garza may be reached at [email protected]