A 3-D experience that will make you feel 'In the Air'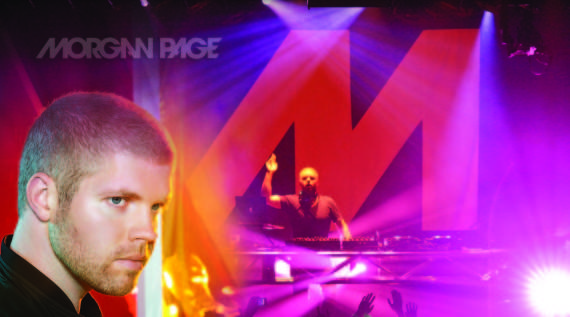 The El Paso electronic dance music scene will be in store for an experience like no other.
Morgan Page is back in town with the 3-D Live Experience with music from his 2012 album "In The Air."
Page was kind enough to chat with the Prospector about the tour, his start in music, and his opinion on EDM in the mainstream today.
The biggest thing about this tour is that it's in 3D. How did you come about this concept?
I first heard about this technology, through Michael Jackson use of this technology. He spent all this money. Eight million dollars developing and investing and making a concept of this LED wall, and then he died before he actually got to be use it.
So were taking the same technology that's a newer and better version of it, and the animators worked on an avatar and did some really amazing movies. So we've had 30 animators over the past two months developing the concept over the summer. It's going to be really cool to show depth to the songs, and its high resolution LED basically that is 3D that allows us to project media images.
Are you one of the first DJ's in the EDM scene to use this 3D concept? If so aren't you really changing the way people go about seeing raves?
Ya, it's a whole new avenue and it's just amazing to see the reactions from people. Nobody has seen anything like it, they think they know what they're going to see going in but they have no idea. You can really capture it on YouTube or in a still photo, you can get a taste of it but nothing can really capture it because it's in 3D. You really have to be at the event.
I'm the first to use the technology, there has been half ass attempts at 3D; the blue and red glasses and the "quazi" holograms but you don't get anywhere near the depth of this.
Today there is a huge fascination with 3D, movies are constantly being made in 3D, and you have movies that were released 10-15 years ago that are being re-released in 3D. Is the main reason for 3D because of the fascination with it in today's society or do you really feel it takes the experience to a completely different level?
I think because we started from scratch were able to take it to a whole other level. In a movie it's much more passive and you're just sitting there. Here you're wearing glasses that are actually more comfortable than you get in a movie and you can move around, you can dance and fist pump.
You don't get motion sick, we've tested it enough to know that people are fine with it. You kind of forget where you are and it takes you on a ride. The music I play is intentionally a journey of this emotional roller coaster.
Because you mainly play progressive house, do you feel that this 3D concept is based for your genre as opposed to dubstep, electro house, or drum and bass?
I think it can work for all the genres, it just depends on the concept you develop. I think it can work well with other genres, with dubstep it's probably more "techy" and you would use more futuristic images.
You've been on tour since Sep. 13, so far how has it been?
It's been absolutely amazing, I've never done a tour this long. I didn't know how people were going to react, I assumed that they were going to love it and it's been amazing. At first people don't know what to do because they aren't really prepared for the experience. Then as they get used to it, they start to dance, move, and participate in the show. It's really cool to see that in every market.
Do you feel that you have one of the best shows out there, in terms of music quality and presentation?
I think it's the best I can do, this is my favorite music and favorite visuals. We made a point to keep the ticket prices low and keep the age range low as well, so we could accommodate as many people as possible.
I think it provides one of the best experiences you can get. The festivals do amazing things, but I think were able to bring that energy into a smaller scale venue.
You handpicked the people you are one tour with, Project 46, Topher Jones, Walden and more. How did you go about picking these people?
These are all guys that I supported on my radio show. I love picking emerging names, before the huge names, I want to help them get to the next level. So these are all guys that I admire, there all doing amazing things. I wanted to have a team, I didn't want to DJ by myself, part of that is camaraderie and part of that is supporting artist I love.
You played in many different places, do you have a favorite place to go back to?
El Paso.
What do you like about El Paso specifically, what is it about El Paso that you love?
"I wish I could clone El Paso. It's the loudest market I've ever played in the world probably, and talking to other DJ's and it's everyone else's favorite too. It's always something I look forward to, I love seeing people on social media talking about it. All the DJ's talk about El Paso, and El Paso knows how to party.
What's the difference between playing in the US and outside of the US?
It depends where you're playing, earlier in the year when I was in India, China it can be very hit or miss. In Europe it's not as fresh, the people are a little more snobby, and there a little more worried about appearances. In the US it's fresh, beautiful, and it's way more fun than any other kind of show.
Let's back track a little and talk about your roots. You're originally from Vermont, is there a big EDM scene there? How did you get from there to here?
I ask myself the same question. There is not much of a scene there, there used to be a weekly and monthly party that would bring in big name DJ's. There was a local vinyl shop, and a college music station, and that's what got me into everything, college radio.
I heard electronic music on the air one day, and I had never heard of electronic music before. There were no blogs, I-Pods, there was no way to discover music like that, radio was the only entry point, and that's how I found it.
Influences, who were they?
Well first it was sort of the electronic acts like the Chemical Brothers, Daft Punk, and then I got more into the underground stuff like tech house and German tech house. I was doing more underground stuff for a long time, deeper tracks. Then as I started to play bigger venues, the sound got more aggressive, and naturally as you play to bigger audiences the sound changes and evolves.
Your 2012 Album "In the Air" is it going to be the main feature of this tour?
Yes, all the main songs are featured in there. We got the big festival bangers on there, so I put vocals over the breakdowns. So were going to please both crowds with really banging aggressive big room songs, and then for the diehard fans who listen to my music.
Today it seems that in more of an intimate setting, big bass electro house has taken over, and melodic progressive house has taken a back seat. Do you feel like dance music is dead?
There is a division that's going on, there is a more underground deeper sound that is thriving in smaller venues. In bigger capacity venues you'll see guys like Hardwell thrive and do well. I think it depends on the venue.
Today Electronic Music has deeply influenced Pop music today. Do you feel that EDM producers are getting the respect they deserve in the national media and mainstream music industry?
Not really. I think it's important that the artist keeps there brand and not be pop music's bitch. I think artist keeping the integrity of their brand is important.
Do you feel that in the future real EDM producers and artists will take themselves into the mainstream?
I think so, but it also has to do with the whole package. You have to have the right look, you got to have the image, the right song, the right team behind you, and present something that works for mass audiences.
Moving on to the future what is there to expect from Morgan Page?
A lot of things going on, the next album which is coming out next year. My new single that is coming out, which is called "Against the World". Also I making a compilation album called "Morgan Page Presents", it's my first mix album, and also a book called "Morgan Page Quick Tips".
Being a DJ and producer do you have a hard time with that when you play shows? Playing to the crowd, but also playing your music.
It is hard. If you're stubborn and don't listen to what the crowd is saying and are only about pleasing themselves, they become obsolete. It's very important to stay true to your brand, but it's this balancing act that you constantly have to do. So if the crowd isn't happy you lose, you have to find a way to keep your sound and keep the crowd happy.
Do you feel like the term DJ misrepresents who producers like you are?
Yes, it a very limited term. It reminds me of someone that plays top 40, there in the background, and there not known for making their music. I absolutely respect what the modern DJ is today.
Javier Cortez may be reached at [email protected]