Cycle for Change Helps Domestic Violence Victims Achieve their Goals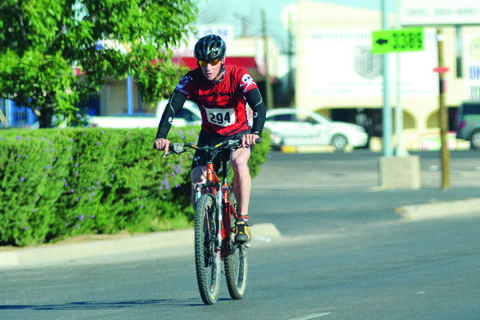 The El Paso County Attorney's Office – Family Violence Unit had a successful first-ever cycling race, Cycling for Change, on Oct. 27 at Album Park to support victims of domestic violence.
Linda Perez, assistant county attorney, said that all of the proceeds gained in the event will go directly to scholarships for victims of domestic violence.
[youtube id="nprUpLRqiCA" mode="normal" align="left"]
"Whether they are going to get medical services, educational services, it would be something that would prevent victims to go back into that cycle, going back to the abuser," Perez said.
According to a report released Oct. 11 from the Texas Council on Family Violence, the number of cases that were filed and prosecuted in El Paso increased by 87 percent to more than 3,000.
According to Perez, anyone who is a victim may apply for these scholarships, the only criteria being that the person must be a victim of domestic violence.
Putting on the event required about a year of development, and Perez said the office wanted to try different methods to institute change.
"That's why we collaborated with Villa Maria, which is a woman's shelter for victims of violence to raise awareness and spread the word," she said.
Perez also said that they considered the event to be a huge success due to the number of participants.
"Given that it was our first year, we were expecting from 100 to 150, but as of yesterday (Oct. 26), we had close to 300 and we did have them on registration here today (Oct. 27)."
Registration for the event cost $15 and the races were from 12, 20 and 50 miles.
"We deliberately kept the price very low, because we wanted to make it family friendly and because it would raise awareness easier," said Jo Anne Bernal, county attorney. "You can see hundreds of people and that's because, in part, the cost was so low and for a good cause."
Bernal said that scholarships would help victims move forward in their lives.
"The scholarships will help people get equipment, like laptops, iPads or books and education," Bernal said. "We want to see people move forward with their goals and see them succeed."
Although Bernal wants to keep doing Cycle for Change in future years, she also encourages people to try to donate and help fight domestic violence when the event is not taking place.
Rodrigo Lugo, sophomore biological sciences major, participated in the 20-mile race. He said that it was a fun experience for him.
"To tell the truth, I didn't know about this race, but my family told me about this charity and it sounded like fun," Lugo said.
Lugo said he thinks that domestic violence is often overlooked.
"I think this is great way to raise awareness for a matter like this one," Lugo said. "Domestic violence is really big issue and I don't think it gets the attention it deserves, so anything that they do to spread the message and get people to understand that there's a problem, but that there's a place to get help, I think it's great."
Leonardo Montañez may be reached at [email protected]