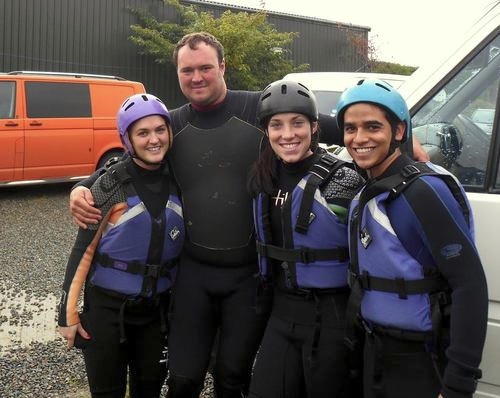 When you are an inexperienced swimmer the last thing you want to do is go on an adventure trip to Wales where you will be kayaking and coasteering. However, if you are an adventurous soul like I am, a trip filled with adventure is ideal and worthwhile.
When I first signed up for the trip I had no idea what I was signing up for. Basically I just saw 'adventure' on the trip tittle and with a little nudge from my brother and sister-in-law I decided to sign up. After signing up I looked at what the trip entailed and realized that I would be doing a great amount of swimming.
The trip began on Friday when we got to the lodge and had an amazing homemade meal. The warm bowl of rich, creamy mac-and-cheese was the perfect break from school cafeteria food. The meal was accompanied by a chocolate-chip cake a la mode. Soon after dinner the bar opened and everyone began to play card games, which made for a perfect night filled with fun and laughter. It was also the right way to begin a weekend of adventure.
Coasteering
Coasteering was an experience like no other. Even though I struggled to keep up with the rest of the group when it came to swimming, I managed to successfully complete every activity—swimming, hiking sideways on slippery, wet rocks and jumping from a 12-foot cliff. Basically I just had to get in the mindset that I was in an episode of "Survivor" or that I was a tribute in "The Hunger Games." Thankfully, I was in a group filled with troopers and no one complained. We all worked together and got along quite well.
It was rather unfortunate, however, that I was not able to take as many pictures as I do whenever I go on trips. I was really looking forward to have a new profile picture jumping of a cliff.
The coasteering began early Saturday morning. We got into our wetsuits, traveled to the shore, got into the water—which was not as cold as I thought—and began swimming towards the cliffs. I honestly thought I would be freezing in the water since it's October and that generally means it's cold outside, but apparently the water is the warmest in October, and it is ideal for such activities.
It was rather fun being in the water and having your body elevate to the surface unwillingly and fold in weird ways due to the buoyancy of the water. It was also fun seeing the reactions of everyone when they would jump off a cliff.
A lot of profanity was shouted every time someone jumped off a cliff, some would repeat a word until they hit the water, "Fuck, fuck, fuck fuck fuck…" Others would just scream, "Holy shit!" (That would be me). And then there were those who would either scream in desperation or excitement.
Once we were done with exploring dark caves in which waves would wash us back and forth, and jumping of several cliffs—the highest being 11-12 feet—we went back to shore, changed out of our wetsuits and got some delicious hot chocolate. It was then time to go back to the lodge and eat some warm soup and a whole lot of carbs so we could be prepared for the series of misfortunate (fun) events with kayaking.
Kayaking was an experience…to say the least. Embarrassing, some may say, but I was pretty damn good for a first timer. Even my instructor told me, "You are doing well for it being your first time. You got the hang of the paddling." Most of the group I was with won't believe that due to the fact I was beached—more than once—and towed.
Yes, I got stuck on a rock three times in a row. It was hilarious, yet scary. I might have looked incompetent by trying to keep my cool. I had a useless attempt at getting off the rock myself, but the more I tried paddling and shifting my body to slide off the rock, the more I would get stuck. Of course, my instructor had to come to the rescue and pushed me off the rock and onto a safer area without any threatening rocks. I then almost capsized and freaked out until I restored my balance. I can now say it was an amazing experience, but in reality I kept saying to myself, "Do not capsize and humiliate yourself. Do not capsize and humiliate yourself," as if being parked on a rock wasn't humiliating enough.
The humiliation wasn't over, though. I could have chosen to keep this a secret, but I thought it was funny and had to share with everyone that the instructor had to tie a rope to my kayak and helped me get through a rough tide and gust of wind—therefore being towed. It was only for a minute or less, so it wasn't a big deal. It was also against my will, but since I was struggling I didn't refuse the help. It was also nice getting pulled and pretending to be almighty paddling against the force of the sea. Once he unhooked me we had to jump over a belt of rocks, which required us to get off our kayaks, drag them across the rocks and get on the kayak again once on the other side so we would paddle to shore. Well, I had to fall into the water when I got off the kayak, thankfully, no one saw. It wouldn't have been a complete experience if I didn't hit the water at least once.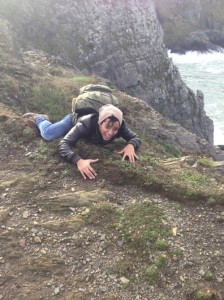 Hiking
When hiking, you have to take a picture of yourself pretending to fall off the cliff and send it to your mother. Or at least that's what I like doing everywhere I go because I'm cruel and get a kick out of it. Sunday morning we went out on a hike, which marked our last activity of the weekend. The hike was 7 miles long and took us through some beautiful scenery. Everywhere you would look it would be mesmerizing. You can stare into the distance, feel the ocean breeze, breathe in fresh, mountain air and embrace the beauty of nature. There would be sheep and cattle everywhere, along with them their feces. Every time we would encounter a heard of sheep they would flee from us at a rapid pace. It didn't help that one of our group members was chasing them while screaming, "BAHHH!!"
The more we walked up and down the hills the more we would trip, slip, and fall and cover ourselves with mud. It was completely unavoidable. Of course, some of us were more cautious and agile when it came to falling; therefore we were clean when we completed the trek. Every time I would fall it seemed like I was break dancing because I would put my hand on the floor and my feet in the air. Some may say I had style when falling.
Wales has been one of my favorite weekend trips so far. It was a combination of great people, food and outdoor activities that made me feel alive and stress free. It was also the perfect trip to have the weekend before midterms, because if you survived coasteering, kayaking and a 7-mile hike, you can most definitely survive a handful of essays and midterm exams.
Alejandro Alba is currently studying abroad in London, England.  Follow his adventures on http://alejandrostravel.tumblr.com/