Nexus 7: The sequel that's better than the original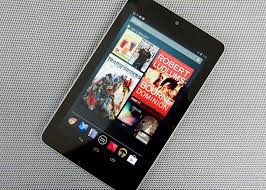 The Nexus 7 is a 7-inch tablet created by Google and built by ASUSTeK Computer Inc. Just when we thought normal-sized tablets were the last piece of technology we would need, they come out with this. I have to say though, that this is one sequel that I didn't know I needed.
I was going to make an objective comparison as to why this tablet is better — than lets say an iPad mini — but for lack of better articulation, it just is.
Let's start with pixels. It has an impressive 1,920 x 1,200 resolution with over 300 pixels per inch (ppi). As consumers, we demand quality and don't necessarily always get it. This is not the case with the Nexus 7, since its impressive resolution translates to HD quality and makes it one of the highest resolutions on the mini-tablet market right now.
A plus for smaller tablets is their weight. With a slimmer body than last year's model, the new Nexus 7 weighs under one pound. The lighter body means they had to shave down the battery life, but it still works for a beefy nine hours of HD video playback and 10 hours of web browsing or e-reading.  The battery also has a built-in wireless charging, which means with the right accessory, you can charge, grab and go.
This tablet was also built for speed and power. With a quad-core Qualcomm Snapdragon S4 Pro processor and a cool 2 GB of RAM, everything simply runs faster, compared to it's previous manifestation—making this tablet great for 3-D gaming.
With dual band Wi-Fi and 4G LTE, you can stay connected almost anywhere. It is important to note though, that this option is only available with the 32 GB LTE version. Obviously, it is the most expensive of its two other siblings, a 16 GB and a 32 GB with a basic Wi-Fi band. This is probably where the flaws begin to appear. While it does have a USB port, it doesn't provide an SD card slot to offer more memory. Furthermore, the new Android 4.3 OS runs at a gluttonous 6 GB, which means if you purchase the cheaper 16 GB, your memory is already almost half full.
My suggestion would be bump up to the 32 GB. This is the issue that has many consumers tilting towards the Microsoft Surface or the iPad Mini, which both contain up to 64 GB of memory.
Another upgrade to the device is in its audio speakers. Instead of having a single speaker, the device offers two — one on top and another at the bottom.
Overall, for the comparatively modest prices, Asus and Google have certainly packed a lot into it.