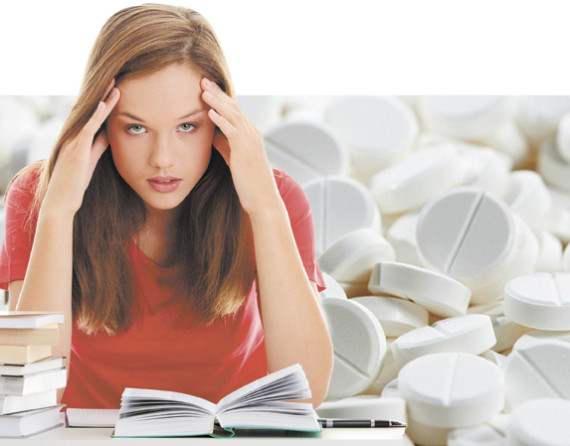 Editor's note: This is the first in a three part series examining student abuse of prescription drugs, Adderall and Ritalin.
Upon entering college, Karla Sifuentes, senior Chicano Studies major, felt it was necessary to seek help after she was having a difficult time focusing in school—something she had struggled with her entire life.
"Living with (attention deficit disorder) is a struggle every day, mainly because doing simple tasks can become difficult, such as remembering things or making decisions," Sifuentes, who is studying abroad in South Korea, said. "My mind is constantly moving and I spend too much time inside my head."
After seeing a psychiatrist and taking an assessment test, Sifuentes was diagnosed with ADD. This brought clarity to a lot of struggles she had dealt with.
ADD and attention deficit/hyperactivity disorder have seen an increase in diagnoses though the past 10 years. With this, there has been an increase in the use of prescription stimulants such as Adderall and Ritalin. Students, who want to use them to help them concentrate on academics, often abuse these stimulants.
According to data and statistics from the Center for Disease Control and Prevention, 9.5 percent of children 4 to 17 years of age (5.4 million) were diagnosed with ADHD as of 2007. Rates of ADHD diagnosis increased by 3 percent per year from 1997 to 2006 and an average of 5.5 percent per year from 2003 to 2007.
The report also found that the rates of ADHD diagnosis increased at a greater rate among older teens as compared to younger children.
"The availability of medications for ADHD and the disseminations of those medications for students, who don't really have the diagnosis, that's prevalent and that's happening," said Brian Sneed, assistant director at the University Counseling Center. "It's not an isolated incident or two."
Before anyone is diagnosed with ADD or ADHD, a thorough assessment is conducted to help screen out individuals who might not necessarily have it and who might be trying to fake their way through to get the medication.
Sneed said the method for looking for ADHD is to do a multilevel assessment, which could include a combination of self-reports, objective assessments and probably some computerized attention assessments. They do a background investigation—looking into previous high school and grade-school performance.
Sifuentes, however, refused to take the medication. She said through instant messaging that she's been able to live with ADD most of her life. She said it's not easy, but manageable.
"I researched on it and also witnessed the effects it had on others," she said. "Medication can be helpful to some, but I don't necessarily think medication is always the solution."
Instead, Sifuentes has developed her own way of coping with her ADD, either from her twin sister's support or from organizational skills she practices on a daily basis such as writing down reminders so she won't forget about things she needs to do.
Students can usually find a way to get the medications and they are  available on the streets. The abuse of these medications may have serious side effects, which include problems with mood, depression, anxiety and liver damage.
"From my experience, I've known more male college students who use these substances than females, at least in my experience within my own community," Sifuentes said.
THE CDC report found that boys (13.2 percent) were more likely than girls (5.6 percent) to have been diagnosed with ADHD.
It is against the law for individuals to be taking medication that isn't prescribed to them, and medications such as Adderall and Ritalin–methamphetamine-based–are considered controlled substances.
According to the Texas Controlled Substances Act, a person who possesses a controlled substance such as methamphetamine-based medication, the offense can range from a state jail felony to imprisonment, depending on the weight of the controlled substance.
Sneed said there should be a change in the assessment process to keep the medication from being abused.
"You shouldn't need to only have an individual's verbal identification of symptomology. I think that there should be a thorough assessment, a psychological assessment of history done, and make it a little bit more evidence based," he said. "Sometimes ADHD can be diagnosed with a single self-report and then if they identify the right symptoms and things like that, they can get a diagnosis."
Sifuentes also said she thinks the medication should be more difficult to obtain.
"From my experience, I was easily handed Adderall with a simple questionnaire. I actually think it is one of the easiest to get than most controlled substances," she said. "I first went to my general doctor and talked about it and then I got recommended to go see a psychiatrist for a test. From that appointment I had with the psychiatrist, that same day I received Adderall samples right away."
The UTEP Student Health Center's pharmacy doesn't currently fill prescription for ADD or ADHD. However, Jacquelyn Navarrate, clinical assistant professor of pharmacy, said she has about one or two students visit each month in regards to getting medication for ADD or ADHD.
"People will bring their ADHD med to be filled and I have to turn them away because we don't have that right documentation in order to fill that through state and federal laws, but we're working towards that," Navarrate said.
Kristopher Rivera may be reached at [email protected].