Miners and Golden Hurricane seeking first conference win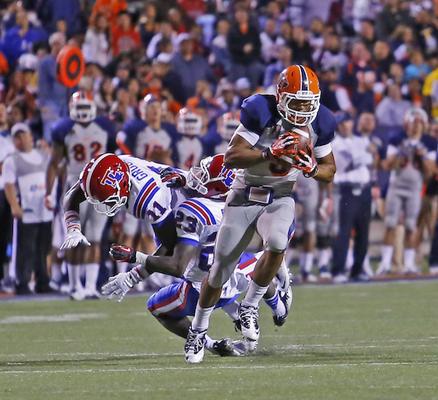 The defending Conference USA champions, the Tulsa Golden Hurricane, and the UTEP Miners will face each other in a battle of 1-4 teams on Oct. 12 at the Sun Bowl. Both teams are coming to the game after suffering heart-breaking losses at home.
Last week, UTEP's late rally wasn't enough and they fell 38-35 against Louisiana Tech. Meanwhile, Tulsa managed to erase a 14 -point deficit in the second half against the Rice Owls, only to fall 30-27 in overtime.
Tulsa and UTEP are both seeking their first conference win of the season and the Golden Hurricane's head coach Bill Blankenship sees UTEP as another tough test for his team.
"They don't turn the ball over, their third-down percentage is high, their quarterback is throwing at a 60 percent completion rate, they're scoring 33 points a game," Blankenship said. "Their numbers offensively don't correlate to where they are 1-4, but they've struggled on defense."
Coming off their third-straight loss, including their Conference USA opener against Rice, the Golden Hurricane come into this game with a misleading record of 1-4. The defending Conference USA champions have had the misfortune of a tough non-conference schedule. Tulsa opened the season against Bowling Green State (5-1), then they faced two Big 12 teams back to back. Tulsa's only win came in a game-winning field goal over Colorado State 30-27.  The Miners lost to Colorado State by 17 points three weeks ago.
The Tulsa team is led by senior running back Trey Watts, who last year was a 1,000-yard rusher, averaging six yards per carry. Over the past five weeks, the UTEP rush defense has been susceptible to the run, and the Miners have the sixth-worst rush defense in the nation. It is almost certainty that the Miners will get a full dosage of Watts.
"In particular, I think this is the best running back we face in Watts, No. 22 for Tulsa," said UTEP head coach Sean Kugler. "He leads their team in rushing, he leads their team in receiving and he's their best kick returner. He's a one-man band and he averages close to 200 yards a game. So our focus needs to be on him and he's tough to tackle.
While the Miners seem to be in the same predicament as the Golden Hurricane–coming off their third straight loss–the recurring theme to each of the Miners' losses is no defense and not enough offense to salvage a win. The Miners' offense has become the safety net that has kept UTEP in the game week after week, as opposed to being blown out each week.
The Golden Hurricane's offense is led by senior quarterback Cody Green, who has completed 89-out-of-169 passes for a total of 1,040 yards, five touchdowns and five interceptions this season.  Tulsa has averaged just over 100 yards rushing per game and scored an average of 21 points.
"They have an offense that is very productive and powerful and a defense that's been struggling a little," Blankenship said.  "So that's going to be an interesting matchup–with an offense here that's struggling and a defense there that's struggling, so we'll go see what happens.
Junior quarterback Jameill Showers has shown consistency at the helm, with minor incidents of inaccuracy from time to time. Freshman running back Aaron Jones has been a pleasant surprise for the Miners' offense, especially with the injury problems that have plagued running back Nathan Jeffery. Jones has stepped up to become the main running back in the UTEP offense.
The biggest threat the Tulsa defense has to contend with is junior wide receiver Jordan Leslie. After a slow start to the season, Leslie has emerged as a deep threat in the Miners' passing game, averaging 17.4 per reception, and he is slowly gaining continuity with Jameill Showers.
Coach Kugler laid out the template for a Miners' victory this Saturday.
"Offensively, we have to run the ball more efficiently. If you've noticed, a lot of our big plays we've had this year are off of play action passes that mirror our run action," Kugler said. "Defensively, again, it's going to sound like a broken record, but until we shore up our tackling and improve our tackling, it's going to be a struggle to anybody."
This game will mark the Miners mid-point of the season, and a win is crucial for UTEP as they will play five of their last six games on the road, including a trip to College Station to face national powerhouse Texas A&M. The Miners' last home game will be Nov. 16 against the Florida International Golden Panthers.
Javier Cortez may be reached at [email protected]
About the Contributor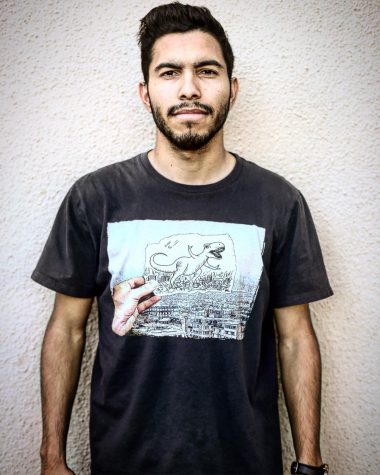 Javier Cortez, Staff Reporter
Javier Cortez is a staff reporter for The Prospector. He is a senior multimedia journalism major, with a minor in English Rhetoric.

Javier was born...