Breaking Bad: "Felina"(Series Finale) recap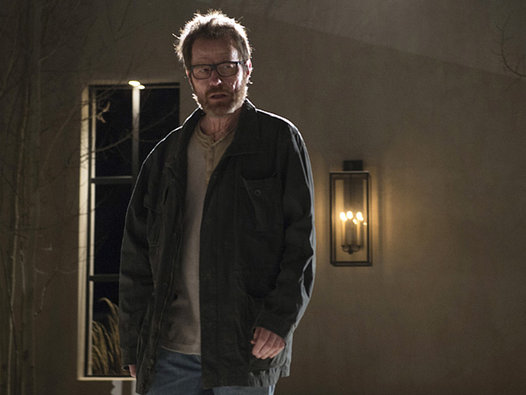 I can't imagine the enormous pressure that creator Vince Gilligan and his staff must've been under when planning out the ending to this series. How do you provide a satisfying closure to one of the most groundbreaking and acclaimed dramas on television? Well thankfully Gilligan and company do just that with "Felina." They managed to provide a sense of closure to the journey of these characters, who have had amazing arcs throughout the series and they do it in a wholly satisfying way.
We begin with Walter (Bryan Cranston) still in New Hampshire just wanting to make this happen and finalize his last piece of the puzzle, asking the car "Just get me home. I'll do the rest." This really is his last mission in life and you can absolutely feel the finality in the statement and the way that he says it. I love the sense of cold claustrophobia inside the car, the frozen windows and the police lights just augmented this sense of tension perfectly, as he prepares his way back towards Albuquerque; while listening to Marty Robbins's "El Paso."
Vince Gilligan, who of course created the seminal show, is back as both writer and director (bringing it full circle since he also acted as both for the pilot episode) and with this episode, he achieves something really special. Gilligan is able to provide closure without it ever feeling forced or overtly sentimental. he instead goes for an earnest, intimate and emotionally satisfying tone.
After the talk show appearance by Gretchen and Elliot (Jessica Hecht and Adam Godley) in "Granite State," Walter's actions seemed pretty ambiguous as to what he would ultimately do to them, since that prompted his return to Albuquerque. We catch up with them in their own home and this entire sequence was absolutely stellar. Walter, in full-on Heisenberg mode, very cautiously making his way around the house in a definitely ominous way; his confidence and the fact that he was in total control of that scene is what made it incredibly tense, but also character driven. Here was a Walter who used the Schwartz's status to provide for his family and to let him use his money for Flynn's (RJ MItte) and Holly's education. It brings shades of that Walter, or Heisenberg, who manipulates people and isn't afraid to often times use dangerous methods–which happened here. That tension gets completely amplified as soon as you see two red sniper dots appear on Gretchen and Elliot, but Walter's entire speech during this scene was absolutely terrifying and just completely what Heisenberg is known for. Of course, we find out later that there were really no snipers, they were Skinny Pete (Charles Baker) and Badger (Matt Jones) – hey guys!, But it reinforced how Walter uses manipulation to get what he wants.
After that, Walter continues on his journey, we get the present-day versions of the flash forward scenes like Walt's 52nd birthday and the return to his family's house to pick up the ricin. He catches up with Lydia (Laura Fraser) and Todd (Jesse Plemons), which was again an excellent use of Walter being incredibly confident, just the little moments like him slowly making himself known at the table and offering his demands to them. But of course Lydia doesn't want to get herself involved with him and Todd feels basically the same. So finally, Walter excuses himself and there is this great shot of Lydia swirling her camomile tea with Stevia–which turns out to be the ricin which poisons her (we get clear confirmation on that in a scene toward the end).
One of the most emotionally powerful moments during this finale were the ones toward the end, especially with Skyler (Anna Gunn), Flynn and Jesse (Aaron Paul). There is a great callback or nod to one of the episodes in Season 3, where Jesse talks about this teacher telling him he can be better at crafting a wood box. It's a beautifully shot scene with him making that box, looking content and almost like a vision of his idealized world, which is abruptly cut short and contrasted with the harsh, horrible reality that he's currently in. Him, being a prisoner and looking like he has gone through a lot–there are scars on his face. It's a very simple cut, but it's so effective and so haunting to see and Paul communicates this terrible situation that Jesse finds himself in with great silent expressions.
We get a scene with Marie (Betsy Brandt) warning Skyler about Walt's return, by telephone, but Skyler already knows about him. In a great reveal, delivered by this slow push-in shot, we see Walter inside Skyler's house. Walter, wearing his green shirt and jacket–another great nod to earlier seasons, gives Skyler the location where the police can find Hank (Dean Norris) and Gomez (Steven Michael Quezada) and use that as leverage. But he also confesses that all along he did the cooking for him, because it made him feel alive, it was him doing what he did best and having a passion for it. It's such a great scene, well written, well directed and just beautifully performed by Cranston and Gunn; it only gets more emotionally powerful as Walter says goodbye to Holly and Flynn. With Flynn, he doesn't even say anything to him; he's looking into his former life, just the silent treatment of this scene with him acknowledging that he's looking at his son for the last time and leaving his family forever really created this very powerful moment.
But if there's one thing that Walter needed to do, and he even told Skyler about this, was to finish his business with Uncle Jack (Michael Bowen), and find out what happened to Jesse. He arrives at the compound, they frisk him and let him inside their hideout, but if there is one thing to say about Walter White is that he isn't dumb. Uncle Jack is about to kill Walter when Walter calls him out on the fact that he is working with Jesse, so Jack lets him know that is not happening. Jesse arrives, in pretty bad shape and as a prisoner, and this makes Walt save him from what's about to happen by tackling him to the ground and protecting him. Earlier, we had seen Walter building a remote-controlled machine gun, which he activated with the car alarm and it fired from the trunk toward the house, killing everyone in bloody "Breaking Bad" fashion. It's something that Jesse would've said something like "Yeah, Mr. White, yeah, science." He used his intelligence to build this powerful weapon to defeat them. Jesse, in an incredibly cathartic moment for him and probably for the audience as well, kills Todd by choking him with the chains, and finally, Walter decides to shoot an injured Uncle Jack in a chilling moment.
Walter and Jesse's final confrontation or resolution felt incredibly emotional as well. Revenge for Brock has been a motivator for Jesse to finish Walter. Instead of each killing each other though, Gilligan offers both characters a bit of humanity, especially Jesse. Walter, injured from the attack, pleads to Jesse to kill him, but Jesse simply says, "Do it yourself." Paul and Cranston have been tremendous in developing these characters and their resolution felt appropriately satisfying. the fact the he wouldn't let himself be manipulated by Walter speaks volumes about how much Jesse has grown as a character, and Walter accepting his fate as well–it's all hauntingly powerful. How incredibly liberating was that moment with Jesse driving off into the highway, howling and screaming and finally laughing at the fact that it was finally over. How great is the fact that Walter White dies in the meth lab he created, a place where he felt alive doing what he loved best, which was cooking meth. Him bloodying up the instruments, admiring his final resting place and the pitch-perfect song choice of Badfinger's "Baby Blue," coupled with the beautiful homage to "Crawl Space" made Walt's final scene so satisfying.
I love the fact that Gilligan offers Walter the chance to redeem himself, but also admitting that pride was also involved–him acknowledging that he was great at cooking and he enjoyed it is the type of fantastic moral complexity that this show excelled at. "Felina" offers closure and satisfaction, with intimacy and emotionality–for a series that is one of the finest TV shows ever made. It's also one of the most satisfying finales for a TV show I've seen.
10 Emmy wins, five outstanding seasons and one incredible journey later, "Breaking Bad" says goodbye in grand fashion with a series finale that is not only satisfying, but nails the right ending for this series. Over its five-season run, "Breaking Bad" told some of the finest episodes we've seen on television, pushing its characters and storytelling to its limit. It was complex, dark, funny, tragic, intense and emotionally powerful all the way to the end. The quality of writing, the cinematography, the editing, sound design, score, directing, acting–anchored by truly fantastic performances led by Bryan Cranston, who just owned that character and took him on this grand character transformation–and more were top of the line. It gave us menacing antiheroes, justice-seeking heroes on the right side of the law, redemption for people we grew to love, explosive moments, storytelling filled with symbolism, tragic losses, beautifully shot landscapes from the Southwest–Albuquerque was basically a character for the series–characters that weren't either good or bad, but had "gray" to them. It was just masterful storytelling that showcased perfectly Vince Gilligan's thesis, which was to show how "Mr. Chips becomes Scarface." It was also incredibly cinematic, with episodes ranging from westerns to heist thrillers to even ones that were one-act plays, using POV shots, time-lapse photography, stylish editing and more.
It's a show that has definitely earned its place among the pantheon of great TV shows and was able to be both critically successful and commercially successful (the commercial one, especially toward its latter years).  I'll miss you "Breaking Bad," your intense narrative thrilled us and shocked us while taking your characters to places we never thought possible. It's been great recapping this fantastic final season and getting to see the conclusion to a show that shows us what this "Golden Age of Television" can be.
Now I leave you with a quote from the pilot episode.
"Chemistry is well technically, chemistry is the study of matter. But I prefer to see it as the study of change." – Walter White