"Living Out" is a knockout at UTEP
Oscar Garza, Contributor
September 25, 2013
Written by Lisa Loomer and directed by UTEP senior theater major, Lluvia Almanza, "Living Out" examines themes of friendship, professional and private life, and more, and at the core it is a powerful story about two women and their evolving relationship.
The UTEP Studio Theatre's production of "Living Out" is a beautifully acted, complex and emotionally powerful theater production that uses the topic of immigration as commentary–– while at the same time gives the audience great character arcs for actors to play with.
The story is set in modern-day Los Angeles, where the story revolves around two women: Anna (junior theater major Denisse Mendoza) a Salvadoran nanny looking for a new job, but when she gets rejected by multiple clients it is Nancy (senior theater major Avery Segapeli), a lawyer and new mom, who decides to trust her. However, the conflict at the heart of this play is that not only is Anna an illegal immigrant, but she also lied about the location of one of her children. This becomes a much more personal conflict as the lives of these two women become more and more intertwined as the story goes on. Segapeli and Mendoza both inhabit their characters beautifully, and they have this easy camaraderie and a fun relationship, while also supplying the story with its emotional heart.
Thanks to this fully realized relationship, not only is the audience able to see their connection develop from one that includes doubts to a relationship that becomes more and more personal as it goes forward.  Through these emotional moments, the audience gets to see the full scope of the other relationships in each woman's life. Amongst these characters is Bobby (Omar Freitekh), Anna's husband, who is also looking for a job, as well as Richard (sophomore theater major Abel Garcia), Nancy's husband, who's a public defender. We also get to know the two women's friends, who meet with each other outside of their home lives. Garcia and Freitekh create completely different husband characters, and through their interactions we are able to see how the dynamics of their relationships and how they affect other characters in the play as well.
Without giving anything away, one of the best aspects about "Living Out" is its ability to balance light-hearted comedy with social commentary. The play had incredibly dramatic moments that never felt out of place. The play comes from a story that is very smart, but UTEP's production of it just captures this fantastically well; the performances from a terrific cast are excellent and filled with scene-stealing and relatable characters, who are as beautifully drawn as they are portrayed. Another thing that was done very well was the production design–it was simple, but really effective. The set portrayed Anna's apartment as well as Nancy's and through this we were able to visually see the differences in their home life..
"Living Out" is filled with wittiness and its quickly delivered dialogue is filled with humor.  Especially when Nancy's friends' comments showed how they view their nannies contrasting with the scenes of Anna and her friends talking about their clients. The play never loses sight of its tone and its performers are doing top-notch work.
"Living Out" has themes of immigration, female friendship, parenthood, solidarity, gender roles and more, but at its center it's a moving and resonant story about two women trying to help each other grow as people and succeed as both parents and professionals amidst turbulent times. The UTEP production is riveting and compelling from the very first moment, and its cast of talented performers (all UTEP theater students) inhabit their characters perfectly, even supporting characters such as Wallace (Klarissa Robles), Linda (Raquel Gomez), Zoila (Andrea de Anda) and Sandra (Cynthia Alvarez). They all steal several scenes with hilarious moments, while the technical aspects like production design and costumes fit the story and characters entirely.  It's moving, it's funny, it's smart and there's great character work, "Living Out" is something that audiences' should definitely go and check out.
Oscar Garza may be reached at [email protected]
About the Contributor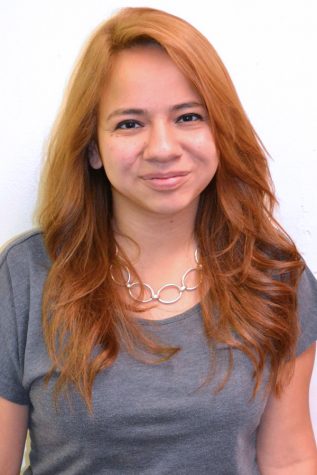 Michaela Roman, Editor-in-Chief
Michaela is a Senior Digital Media Production major at The University of Texas at El Paso. As the Editor-in-Chief, and former Photo Editor of The Prospector,...