Former USC interim head coach Bob Cantu accepts assistant role for UTEP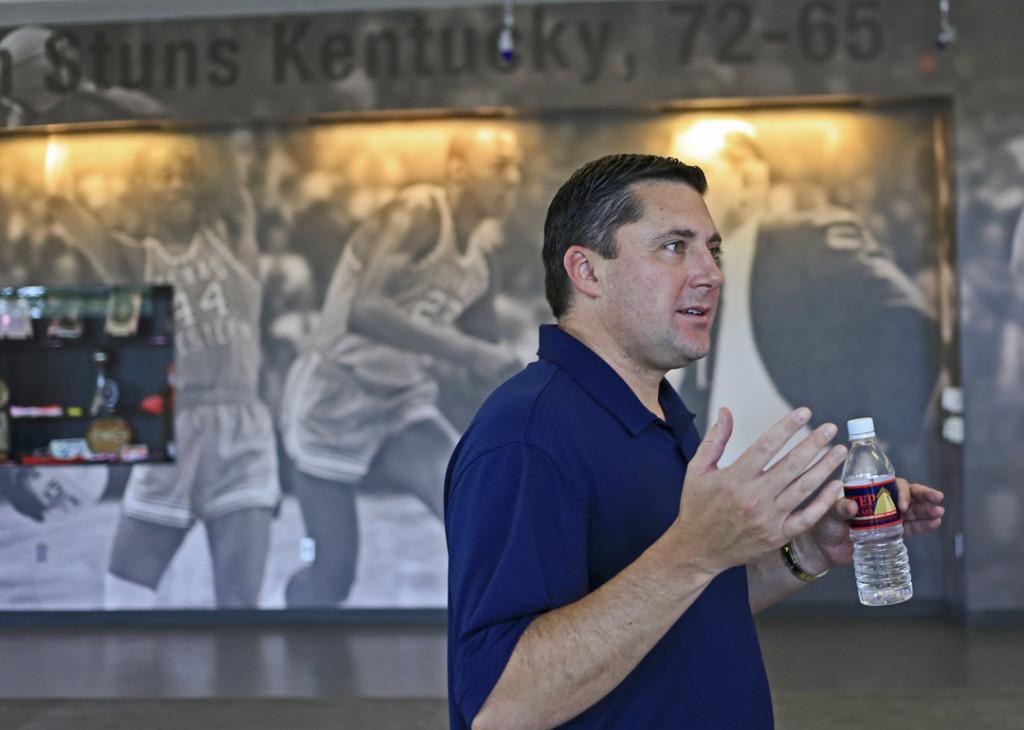 Aaron J. Montes, Staff Photographer
September 19, 2013
Former USC interim basketball head coach, Bob Cantu, agreed to sign with UTEP as an assistant coach for Tim Floyd to replace Greg Foster who left to the NBA.
Cantu was part of the Trojan's program for 12 years, five with head coach Tim Floyd and assistant Phil Johnson. Cantu led the Trojans in victories against UCLA and Arizona last season.
Cantu said that since Floyd resigned from USC in 2009, he spoke with him on a weekly basis and he did not apply for any assistant jobs when coach Andy Enfield, the former coach of Florida Gulf Coast was hired as the new USC head coach. When the 2012-13 season ended, Cantu planned on not coaching and pursuing a career in television instead.
During one of his weekly calls, Cantu said he brought up coach Foster's departure and Floyd asked if he knew anyone in mind.
"How about me?" Cantu said. "He (Floyd) said really? And, I said, it would be great."
According to Cantu, after Floyd interviewed different candidates, he received a call from coach Floyd sometime on Sept. 16.
"He called me I think it was Monday, and said, 'Bob, want to be a Miner?' I said, yeah I do coach," Cantu said. "This opportunity came late and because it was coach Floyd and everything that comes with this program it was really a no brainer."
Cantu said he is familiar with coach Floyd and Johnson's system and wants to fill in as needed. The new assistant coach said the greatest challenge is recruiting with signing day coming up in November.
"Hitting the road and trying to juggle that with getting to know the team will be a little bit of catch-up for me." Cantu said.
Cantu's experience as an interim head coach has helped him to be a better assistant. Cantu said that his 17 years in the west coast and 12 in the Pac-12 conference gives him strong ties for when he begins recruiting for UTEP.
"The west coast and southern California will be a hotbed for us," Cantu said.
When it comes to recruiting, Cantu said that it is better to recruit bigger numbers of players, so that you don't focus on just one or two players. He also said that the greatest insight in recruiting comes from a thorough evaluation.
"Not necessarily the four or five star guy is going to be that NBA player," Cantu said. "It's getting that player, but also evaluating the one that is going to be that one."
Also Cantu took the opportunity to express his thoughts about former UTEP recruit Isaac Hamilton. He said that it is just part of the recruiting process, adding that he knew Isaac from the time he recruited Jordan Hamilton, who is Isaac Hamilton's brother, and that it was unfortunate that he did not end up coming.
"It just creates another opportunity for another player to get those minutes he was going to get," Cantu said. "We will move forward and there will be other players as good as him or better that we will continue to recruit."
Aaron Montes may be reached at [email protected]