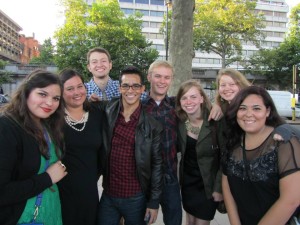 This whole week felt like I was entering college all over again, but in an upgraded fashion. When I entered the University of Texas at El Paso I did not feel anything special or meet a whole group of new, cool people. Instead I took on five courses, two jobs and a whole lot of antisocial behavior. UTEP being a commuter school made it hard for me to get the typical cliché of a freshman college experience—not like I was all about that life in the first place.
Now I get to experience something different in London and with a responsible way of thinking. So, no, there won't be any of that irresponsible drinking or missing classes. I've gone through three years of college to know better. However, I will have fun. I'll meet new people, go out and explore, and focus on school instead of work–All while having a room to myself.
It has only been my first week, but I can already tell that the whole semester will be amazing and most definitely life changing. Especially because I met a group of amazing people.
First week in London was orientation week, but I saw it more of a vacation. Monday (Sept. 2, 2013) we began with a walking tour around Kensington. We visited the palace and strolled through Hyde Park. We got to see the Kensington and Buckingham Palaces and enjoyed the architecture, which we will be surrounded by for the next four months. On Tuesday, we went on a bus tour that took us all around the city. Although we couldn't get off and take pictures of all the sights, I still enjoyed getting a feel of what traveling in the city was like. The best stop in the tour was Buckingham Palace, where I got to see the British guards—only place I really got the chance to be a tourist and photograph everything that captured my attention.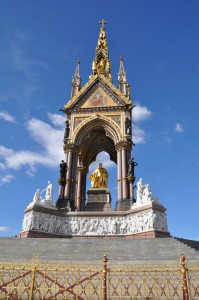 Once the tour was over, we went to more orientation then to have our first pub experience. Imperial Bar (Imperial College's own student/professor pub/bar) will probably become everyone's favorite place. It's cheap, filled with students and five minutes away from the dorms. It's a great way to meet people, especially locals.
During our first week we also got to experience our first play in London. On Thursday we took the tube to Piccadilly Street and attended a performance of "39 Steps." The show was witty and I loved it. I will most definitely be returning to that district and to see "The Book of Mormon" and "Matilda."
From one day to the next and from one event to the other, Friday was the day we were all waiting for. The boat party was, well, awesome. Got to meet more students from the AIFS program studying at Richmond while riding a boat on the Thames River. The view of the tower bridge was great as we sailed beneath it.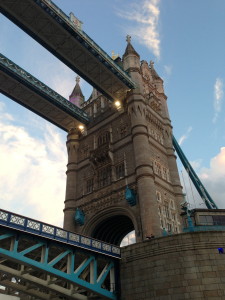 The weekend was nothing but walking. It all began Saturday, when we decided to go shopping then go to the BBC studio tour. Yes, I do like purchasing new clothing; therefore Primark has become my new best friend and my wallet's worst enemy. The store has a wide selection of items that are cheap and stylish. I hate to admit it, but I returned to that store three days in row and bought things all three times.
The BBC studio tour was interesting, however, I had higher expectations. As a journalism major I was really looking forward to meeting a news anchor and get to know his or her life story, or even just get more of a tour inside the newsroom, but we didn't. The tour focused more on the history of BBC and the radio aspect of it. No TV and no news. We did get to do some fun activities, however, which included a radio drama. I got to play Jo, a impatient young man that was served as dinner. The story was a bit off, nonetheless fun to play.
On Sunday, I got to be Ron Weasley at the Harry Potter Walking Tour. The tour was a great way to travel across the city and get to know both the magical world of Harry Potter and the mesmerizing city of London. I'm the worst Harry Potter fan because I have never read the books and I've yet to watch the last installation of the movie series. However, I will attend any Harry Potter activity, and the tour was one of them. We had an amazing tour guide who would quiz us at every stop. Once again, I was useless at the whole quizzing. Sunday evening lead to high elevations as we went on the London Eye. The view was marvelous! The whole experience seemed so surreal that I can't wrap my head around the fact that I am living in London. Being 443 feet up in the sky offered a complete view of the city of London. It was the perfect panoramic picture for Westminster Abbey, Big Ben, and every other structure with beautiful architecture.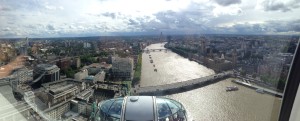 Later at night, we took the tube to the sketchiest place in London, White Chapel, for the Jack the Ripper walking tour. The story the guide shared with us was very interesting, but it was a challenge to get into the story when my feet were super tired and I was suffering from my three-day cold. Since the area was filled with young hipster-looking people, I decided to fit in and take a very "deep" inspirational picture of my self with a minimalistic sign saying, "You are you."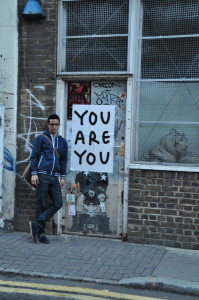 London, what can I say, it takes my breath away. I love it and I'm grateful for being here. I do miss my family, a lot, but when experiences like these come around, I can't say no.
School starts next week and I am more than ready to start my last semester of my college degree. Let's make the best while in London.
Alejandro Alba is currently studying abroad in London, England.   This story was previously published on http://blog.aifsabroad.com/